Five people die in another earthquake in eastern Afghanistan
At least five people have died this Friday in a fresh earthquake in Afghanistan's Paktika (east) province, one of the aftershocks of Tuesday's devastating earthquake that killed more than 1,100 people and injured 1,600, authorities confirmed.
Paktika Governor's Spokesman Sanaulá Masum has stated that at least five people were killed and 11 injured in this new earthquake, which mainly hit Giyan District, Afghan TV station Tolo TV reported.
Afghanistan's Emergencies Ministry said on Thursday that more than a thousand of those injured in Tuesday's earthquake are in critical condition, suggesting that the death toll could rise in the coming hours while investigations and search and rescue operations continue Rescue operations continue.
A resident of Paktika complained that "the population has suffered many casualties, lives have been lost and the earthquake has destroyed many houses". Afghan authorities have stressed that more than a thousand houses were destroyed by the earthquake.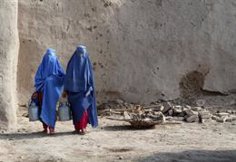 The United Nations warns that Afghan authorities are excluding women and girls from society
Taliban leader Mullah Hebatullah Ahundzada on Wednesday called on the international community to help authorities deal with victims while the United Nations and its agencies have begun mobilizing resources to deal with the emergency.
The earthquake had its epicenter about 44 kilometers from the town of Jost, while its epicenter was at a depth of about 51 kilometers, later revised to about 10 kilometers, according to data published on its website by the United States Geological Survey. States (USGS).