Fishing nets and false teeth: Meet the beach debris hunters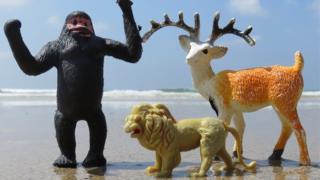 Scouring the beach for hidden treasure is by no means a new hobby – rather, beachcombing has been around for centuries and was once the preserve of low-society drifters. But a new breed of eco-friendly hobbyists are trying to stem the rising tide of plastic in the seas by sifting through the man-made debris landing on our shores.
Sir David Attenborough's rallying call to protect our oceans during Blue Planet II highlighted the huge scale of rubbish in the seas – estimated by National Geographic to be 5.2 trillion pieces.
It helped prompt a surge of action from authorities, companies and individuals to take bold steps to reduce plastic use.
But the years of damage already done by those dumping litter is washing up on our sands with alarming regularity – from packaging going back decades to bed frames and false teeth.
To highlight the issue, so-called beachcombers share some of the more bizarre discoveries from England's coastline.
'I traced the owner of a lab coat from Holland'
Tracey Williams from Newquay describes her hobby as "beach archaeology" and trawls the shores of Cornwall every single day, collecting colourful items before going home to trace their origins.
The holiday cottages owner became "really fascinated" with beach cleaning when she found Lego pieces which had washed up after a cargo spill 21 miles off the Cornish coast in 1997 – and the fact they still wash up to this day is something she finds "astonishing".
Among her other finds are colourful goggles and toothbrushes, as well as toy figures, some of which were distributed in Cornflakes boxes dating back to the 1950s.
"Picking up people's rubbish can be really soul destroying. I post pictures on social media of the more interesting items to promote the issue, as often people have no idea these things are washing up.
"A good example is I used to pick up hundreds of short plastic pens on a beach and had no idea where they came from.
"Then when I spent time in London I found them outside the bookies' shops falling into the drains, and realised that's how they must be getting into the sea.
"I also once found a baby carrier and a lab coat with a name on which I traced back to Holland. The lady said she had no idea how her lab coat could have ended up on a beach in Cornwall."
She explains many intriguing items come from cargo spills or people simply losing things on the beach or off boats.
Sometimes such items spend decades in the sea, before being washed in due to weather changes and currents.
"Every now and again a big swathe of debris will wash up in a big mass of seaweed. I find lots of goggles, snorkel masks and toothbrushes as well as medical waste," she said.
She shares information with a network of beachcombers on Twitter and Instagram but says often it is impossible to trace where an item has come from.
'I want to find a Lego dragon'
Chris Easton lives a stone's throw from three miles of golden sands at Perranporth, on the north Cornish coast.
Since retiring as a postman he has become so intrigued by the things he finds on his weekly "wrecking" that he has taken the hobby up a level.
His front yard has become a "gallery" to showcase his most prized treasures.
The tall whitewashed walls are the perfect backdrop to showcase his eye-catching "flotsam faces", which he makes entirely from containers, lids, broken fishing nets and other worn items.
Mr Easton puts much thought into assembling his characters, and "always makes sure they look cheerful and humorous".
He also displays row upon row of other items, each carefully categorised.
One wall is covered in American fishing gear, including octopus and lobster pots, bait boxes and tags.
You might also be interested in:
Mr Easton says these have travelled thousands of miles from the east coast of the United States on the Gulf Stream.
"I like the lobster tags because they tell a story," he said. "The fishing tags have names on them."
Accompanied by this is a large selection of colourful children's toy figures and shoes, which have either washed up or been left at the popular tourist resort.
"There's something both sad and interesting about them and they make a great display. I've rehomed them and they feel happy here, I hope."
Mr Easton said one of his most interesting finds was a transmitter from a weather balloon.
"I had to look it up as I didn't know what it was. I thought that was exciting," he said.
But there is one lost treasure he is yet to lay his hands on.
"I've got ambitions and one of them is to find a Lego dragon."
'I can't walk past any more'
Wildlife-lover Paul Grainger has been beachcombing for 50 years but has recently been inspired by the #2minutebeachclean movement.
The 60-year-old shipyard engineer says his family has long had "connections to the sea" but his motivation now is to remove as many litter hazards as possible for marine species.
"Social media has made me more aware of the problem – you see clips of dead birds full of plastic or seals with plastic rings around their necks cutting into them," he said.
"I make a beeline for things like plastic bottle rings, balloons and strings and rope. I can't walk past them any more.
"It saddens me that our throwaway lifestyle can have such a long-lasting environmental impact."
Mr Grainger goes hunting for litter every day with his dog and mostly focuses on his local beach at Hartlepool.
But in 2016, he cleaned 52 beaches – one for each week of the year – covering areas including Northumberland, Yorkshire and even Italy where his daughter lives.
Some of his more interesting litter discoveries include a large bed frame but the most common are plastic bottles and pieces of "ghost" or old fishing gear, including netting, rope and hooks.
He has written a blog for the past few years, and regularly asks local authorities to move large pieces of litter he cannot handle.
The most recent was a large segment of grey plastic barrier several metres long and high – its origin remains a mystery.
'It's my mission to make change'
Kate Osborne made a career change a few years ago because of her urge to spread warnings about marine litter.
The former NHS academic now runs Beach Bonkers – a non-profit style organisation that shows groups the "incredible treasures" and "shocking waste" found on the shingle between Felixstowe and Lowestoft, Suffolk.
"I find a lot of shotgun cartridges – at least one every time I go out," she said. "These wash up because of clay shooting off the back of cruise ships and wildfowling on rivers."
Some of the more random "alarming" items Ms Osborne has found in recent months include a string of broken fairy lights and a plastic tray made by a catering company, 34 years after the firm ceased to exist.
"I'm taking [people] to the beach and showing them the cool stuff – egg cases, crab shells – and while we're there I'm alerting them to all the horrors," she said.
Ms Osborne said it was common to find Dutch yogurt and milk packaging, balloons from Belgium and packaging from French companies too, which drift across the English Channel or North Sea.
She also finds lots of plastic straws and "hundreds and hundreds of cups" which she suspects are from ferries.
"I still think there's a huge disconnect. People don't get that something that goes down the drain ends up in the sea.
"I tell people to imagine a fish is living down their drain because everything that goes down it is basically being fed to them.
"It's my mission to make change, but it's everybody's job, we've got to deal with this."
Two-thirds of litter comes straight from land-based sources – for instance having been washed down drains and dropped in towns and cities, or simply flushed down the toilet
Some of this land-based litter also comes from badly managed landfill sites
The remaining third is deposited straight into the sea, for instance by containers going overboard or fishing gear being lost
There are approximately 51 trillion microscopic pieces of plastic in the sea, weighing 269,000 tons – the equivalent to 1,345 adult blue whales
One in three fish caught for human consumption now contains plastic, but the impact on human health is unclear
Source: Surfers Against Sewage