Fisherman bitten by porbeagle shark off Cornwall coast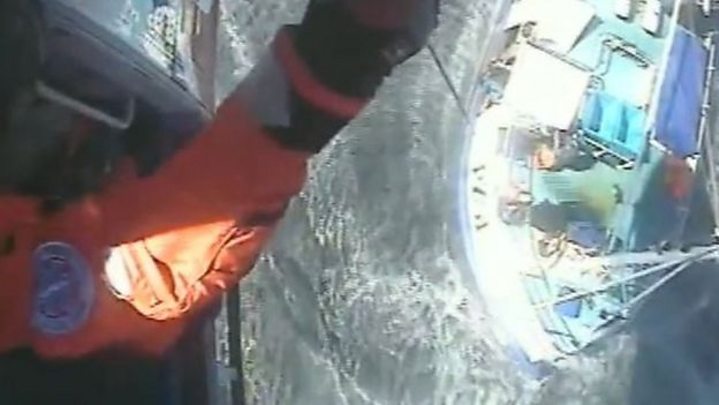 A fisherman is in hospital after being bitten several times by a shark about 120 miles (197km) off Land's End.
The porbeagle shark had been hauled up in the nets of the Govenek of Ladram fishing boat early on Sunday.
The shark – thought to be up to 8ft (2.4m) long – bit the leg of fisherman Max Berryman as the crew tried to get it back in the water.
He was treated at the scene and winched by the coastguard to Truro's Royal Cornwall Hospital.
More on this story and others from Cornwall
Alex Greig from Falmouth Coastguard said the shark bites went down to the muscle.
"There were about four to five cuts altogether, one of which was extending about 10in (25cm) in length along the side of his knee," he said.
Phil Mitchell, the boat's skipper, said: "His leg was badly gashed – I just had to do the best job I could dressing it.
"We got him stable and spoke to the doctor who recommended him being airlifted because of any bacteria that could have been on the teeth."
Mr Mitchell said he thought the shark weighed up to 20 stone (127kg).
He described the porbeagle as "really big and powerful" and said it was fortunate the shark had caught Mr Berryman with its top jaw but did not clamp its bottom jaw closed.
Porbeagle sharks
Also known as a "mackerel sharks" or "porgies"
Mainly eat mackerel, squid and herring
Live in cooler waters and can warm their bodies up
Have a distinctive white mark on their dorsal fin
Endangered in many parts of the world
Grow slowly and mature late
Source: British Sea Fishing
Although a member of the great white family of sharks, the porbeagle is not usually thought to be a threat to humans.
Paramedic winchman Julian Williams was lowered to the vessel and praised the quick actions of the crew for treating the wounds.
"The crew had done a really good job of dressing the wounds before we arrived which meant that we were able to save time getting the casualty to hospital," he said.
Mr Berryman is understood to be in a stable condition.