First demonstrations against the war in the US and the United Kingdom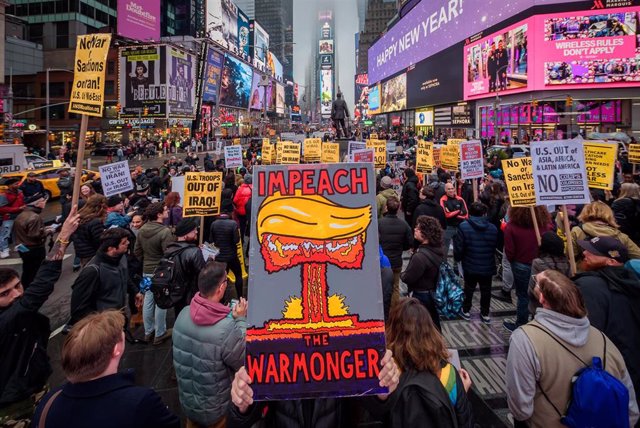 Demonstration against the war in New York – Erik Mcgregor / ZUMA Wire / dpa
LONDON, Jan. 4 (DPA / EP) –
Several demonstrations have called for Saturday the end of the US bombings in Iraq both in London and in American cities such as New York, Chicago or Washington. There have also been concentrations in Berlin, Toronto and Ottawa.
"Without justice there is no peace. The US outside the Middle East," protesters concentrated in the New York Times Square chanted with banners with slogans such as "Stop the bombing of Iraq" or "Neither war nor sanctions against Iran."
A similar protest has been held in Chicago, where some 200 protesters have concentrated on the Trump Tower in the city, or in Philadelphia, where half a thousand people have concentrated. In Washington the concentration has been attended by activist and actress Jane Fonda.
The call in the United States has been by Act Now to Stop War and End Racism (ANSWER, Let's Act Now to Stop the War and End Racism), a group that ensures that there are about 70 events called in the United States.
The call is "against another war in the Middle East and to request the withdrawal of all US troops and bases in the region," highlights ANSWER on its website.
In London, the march called by the Paremos la Guerra Coalition has been attended by deputies of the Labor opposition and dozens of activists who have requested containment from Washington. The protest has been held in front of the official headquarters of Prime Minister Boris Johnson, Downing Street.
"Our experience of mobilization against the war in Iraq (2003), is vital to stand up firmly and as soon as possible to defend peace," Labor spokesman John McDonnell explained through his Twitter account.
Labor Justice spokesman Richard Burgon reminded protesters that former US President George W. Bush clearly said 17 years ago that he would attack Iraq "whether or not there was UN support."
"To our shame, our government signed it," Burgon said, so "hundreds of thousands of Iraqis have died and millions of lives were destroyed." "But a war against Iran could be even more deadly. We run the risk of a total war in the Middle East that could get out of control," he warned.
A spokeswoman for the Stop the War Coalition, Lindsey German, has claimed that the assassination of Iranian General Qasem Soleimani in an attack by an American drone last Friday in Baghdad is "an act of war."