First colleges to teach new vocational T-levels to be named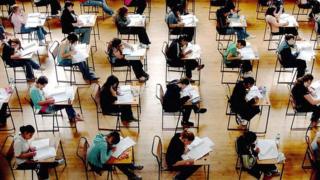 New T-level qualifications will help the UK "complete globally," Prime Minister Theresa May has said.
The first 52 colleges to teach the courses, intended as vocational alternatives to traditional A-levels, will be announced on Sunday.
From 2020, they will teach courses in construction, digital, and education and childcare. A further 22 courses will be rolled out in stages from 2021.
But Labour said the announcement will be "little more than meaningless spin."
The new courses are a "vital part of our industrial strategy", Mrs May added.
She said: "Everyone should be able to have access to an education that suits them, but we know that for those that don't choose to go to university, the routes into further technical and vocational training can be hard to navigate."
The "most significant reform to advanced technical education in 70 years" would "ensure young people have gold standard qualifications open to them whichever route they choose", she added.
'Skills gap'
Eventually, T-level courses will cover sectors such as finance, engineering, and the creative industries.
The courses' curriculums are being "created by expert panels of employers to make sure young people have the knowledge and skills needed," the government said.
Each course will include a compulsory three-month work placement.
Businesses want people with technical education and workplace experience to "help them fill the skills gap," said Jane Gratton, head of skills policy at the British Chambers of Commerce.
She said: "T-levels will be an important part of the solution."
Yet there have been some criticism of the government's plans.
In a statement, Angela Rayner, the shadow education secretary, said the government was attempting to hide its "failure to properly prepare" for T-levels.
"World class technical education cannot simply be delivered by press release, while avoiding the impact of years of cuts on the sector," she said.
Earlier in May, Jonathan Slater, a top official at the Department for Education, formerly registered his concerns in a letter to the Education Secretary Damian Hinds.
He said it would be "challenging" to ensure that the first three T-levels are ready to be taught from 2020 to a "consistently high standard".
However he said it was "perfectly legitimate" for Mr Hinds to consider the "high priority" attached to improving technical skills and to stick to the 2020 target.
Mr Hinds rejected the claims, saying: "Naming the first 52 colleges and providers where young people will be able to study the first T-levels is an important step forward.
"We will continue the work with business and the education sector so everyone can benefit from these vital reforms."
He said: "T-levels represent a once in a lifetime opportunity to reform technical education in this country so we can rival the world's best performing systems.