Fires continue in Australia while rains continue to wreak havoc in the northeast of the country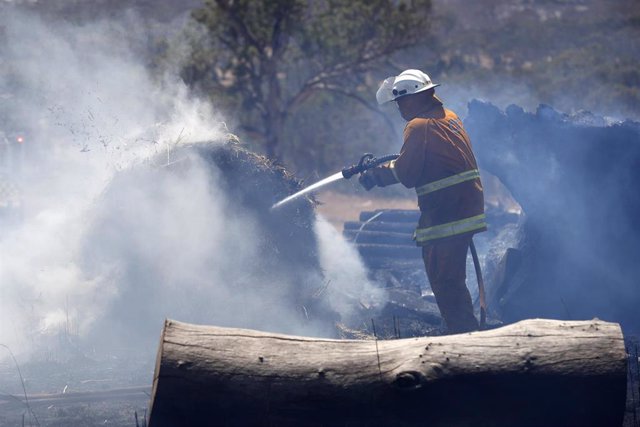 Image of a firefighter in Australia. – Kelly Barnes / AAP / dpa
CANBERRA, 18 Jan. (DPA / EP) –
Dozens of fires continue to burn this Saturday in Australia while torrential rains and storms continue to wreak havoc in areas northeast of the country.
Several roads have been cut and different parks have had to close in the state of Queensland due to heavy rains, which have accumulated up to 330 liters of water per square meter in some areas.
Local media have shown videos in which you can see dozens of vehicles being dragged by the strong currents of water generated after the rain.
The meteorological agency of Australia has warned through Twitter of the presence of 100 liters of water per square meter in certain locations. "The heavy and intense rain has descended, although drizzles and storms may continue over the weekend. Be careful on the roads," they have moved.
Queensland Police have said they have received more than 50 road flood statements on Saturday morning.
For their part, in the state of New South Wales, firefighters try to contain 75 fires, "taking advantage of the good conditions", of which there are still 25 to control, as confirmed by the Rural Firefighters Service (RFS) English).
In the state of Victoria, a dozen fires remain active, most of them in East Gippsland and in the northeast of the alpine areas.
In addition, the Australian Environmental Protection Agency has noted that smoke from fires has caused air quality to go from "good" to "very poor."
The impact of forest fires on tourism in Australia could cause losses worth up to 4.5 billion Australian dollars in the sector by the end of 2020, according to a report by the Australian Tourism and Export Council.
The fires have also destroyed almost 80 percent of the forested region known as Blue Mountains, a World Heritage listed area, located in New South Wales, the state most affected by the fires that have already consumed more than 10 million hectares .
Australia has gone through extreme weather conditions, with forecasts that sometimes exceeded 40 degrees Celsius and winds of up to 90 kilometers per hour in many rural areas. These situations have hindered the extinction of fires that have already devoured some 10 million hectares throughout the country and have caused the death of thirty people and damages valued in millions of dollars, as well as the devastation of the country's biodiversity.