Firefighters rescue man, 20, stuck for hours in swing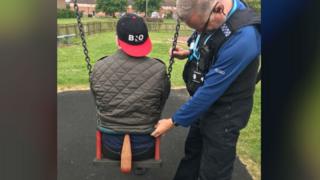 A man had to be rescued by police and the fire service after getting stuck in a child's swing in a play park.
The 20-year-old had been firmly wedged in the child-sized seat for three hours before police were called to Landseer Park in Ipswich at 07:50 BST.
When a "shove and pull" method of swing-release failed, the fire service arrived with a trusty screwdriver.
The swing was taken apart and the "grateful but embarrassed" grown-up was freed unharmed.
A Suffolk police community support officer quickly realised the man – who complained he had been in there for three hours – was definitely stuck.
There was no shifting him as the girth of his rear was clearly too wide for the child-sized swing.
After taking the swing to pieces and releasing the man, crews from Suffolk Fire and Rescue Service put it back together so it could be safely used by someone of the right size.