Fiona Hill accuses Republicans of spreading a "fictional narrative" about Ukrainian damage to the US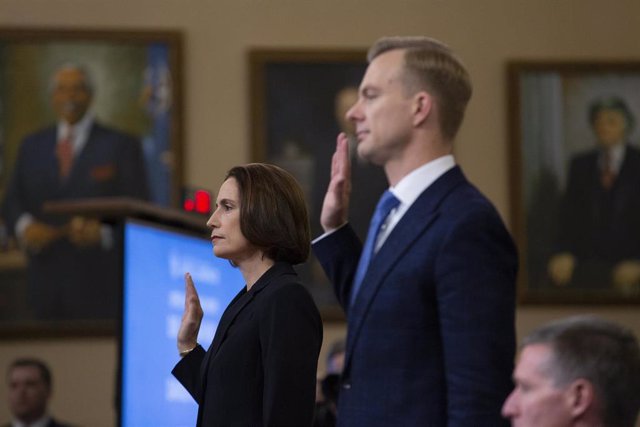 Former member of the US National Security Council Fiona Hill – Stefani Reynolds
MADRID, Nov. 21 (EUROPE PRESS) –
Fiona Hill, former member of the National Security Council and former adviser to the White House for Europe and Russia, on Thursday accused the Republicans of spreading a "fictional narrative" about Ukraine "perpetrated and propagated by" Russian security services.
Hill, who has appeared as a witness in the investigation on the 'impeachment' to the president of the country, Donald Trump, has thus responded to statements by the president himself and other high Republican positions that have argued that it was Kiev, and not Moscow, that participated in a campaign to interfere in the 2016 elections.
"From questions and statements I have heard, some of the members of this committee seem to believe that Russia and its security services did not carry out a campaign against our country and perhaps, in some way and for some reason, Ukraine did did, "he said, in statements before the Intelligence Committee of the House of Representatives.
"The unfortunate truth is that Russia was the foreign power that attacked our democratic institutions in 2016. This is the public conclusion of our Intelligence agencies, confirmed by bipartisan Congress reports," he said.
Thus, he said that "the impact of the successful Russian campaign in 2016 is still evident today." "Our nation has been torn apart. The truth is questioned. Our highly professional and expert Foreign service is being undermined," he criticized.
"The US support for Ukraine, which continues to face an armed aggression by Russia, has been politicized. The aim of the Russian Government is to weaken our country, reduce the global role of the United States and neutralize a perceived American threat to interests Russians, "he said.
In this way, Hill has argued that Russian President Vladimir Putin and Russian security services "seek to counter US foreign policy objectives in Europe, including Ukraine, where Moscow wishes to reaffirm its political and economic dominance."
"I do not say this as an alarmist person, but as a realistic person. I do not believe that a long-term conflict with Russia is desirable or inevitable. I still believe that we need to find ways to stabilize our relationship with Moscow, even while facing its efforts to harm us, "he argued.
On the other hand, he said that the Russian security services and their allies "have prepared to repeat their interference in the 2020 elections." "We are running out of time to stop them," he warned.
In this way, Hill has asked that during the sessions of the 'impeachment' "do not promote politically motivated falsehoods that make Russian interests progress so clearly," before recalling that "as Republicans and Democrats have agreed for decades, Ukraine is a valuable ally of the United States and plays an important role in national security. "
"I refuse to be part of an effort to legitimize an alternative narrative that the Ukrainian government is an adversary of the United States and that Ukraine, and not Russia, attacked us in 2016," he reiterated.
"These fictions are harmful even without being deployed for purely internal political purposes," he said, while accusing Russia of "using millions of dollars to make the political opposition's investigation and false narratives a weapon."
Hill has also argued that if the situation "is consumed by partisan resentment, these external forces cannot be fought, which seek to confront each other, degrade institutions and destroy the faith of the American people in democracy."
"If the president, or any other, prevents or subverts the national security of the United States for internal or personal interests, it is more than deserving of his attention, but we do not allow internal politics to prevent us from defending ourselves from foreign powers that really want to harm us ", has settled.
These public appearances are called to lay the groundwork for the possible formal opening of a political trial against Trump. For the process to prosper, a majority of the House of Representatives should vote in favor, although Republicans are a majority in the Senate, where the aforementioned trial would take place.