Ferrari wing mirrors banned by FIA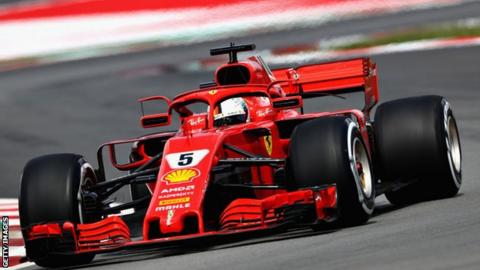 The controversial wing mirrors used by Ferrari at last weekend's Spanish Grand Prix have been banned by Formula 1.
The sport's governing body, the FIA, did not approve of the way the mirrors were mounted to the halo head-protection device on the car.
Teams may still mount mirrors on the halo following a rule clarification, but they must have only an "incidental or minimal" aerodynamic effect.
The FIA felt Ferrari's mirrors gave them too much aerodynamic gain.
Ferrari's Sebastian Vettel finished fourth and Kimi Raikkonen retired after 25 laps at the Circuit de Barcelona-Catalunya, in a race won by Mercedes' Lewis Hamilton.
In future, any team that wants to mount wing mirrors on the halo must do so with only a single mounting, or any secondary one must satisfy two criteria:
It must provide a "meaningful structural contribution to the mounting system", which teams may be asked to demonstrate to officials
It must be "mounted to the lower and/or inboard surface(s) of the mirror housing"
Ferrari's secondary mount was above the mirror and formed an outward-leaning curve that had the effect of a small wing, smoothing the airflow rear of the structure.
The FIA said it "acknowledged that the rules currently in force with regard to mirrors are not perfect, and will strive to propose a more complete set of rules in terms of mirror position, mountings, visibility, etc. in the near future, with the aim to get a unanimous support for such changes for 2019".
The FIA has also been investigating the operation of Ferrari's battery in its role within the hybrid section of the team's power-unit.
There are questions over the specifics of the architecture of the system that supplies energy to the MGU-K – the motor that recovers and re-deploys energy on the rear axle.
The FIA is seeking an explanation as to how the team's system works, although there has been no official suggestion that Ferrari are doing anything wrong.