Fernandinho: Manchester City midfielder signs contract extension until 2020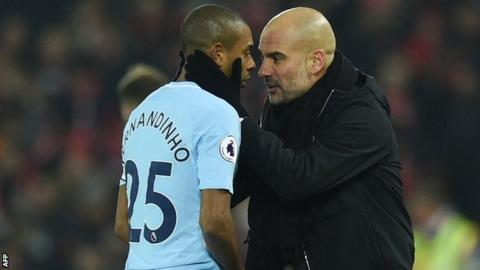 Manchester City midfielder Fernandinho has signed a two-year contract extension until 2020.
The 32-year-old Brazilian was a £30m signing from Shakhtar Donetsk in June 2013, and won the Premier League title and League Cup in his first season.
He scored in the League Cup final as City won in 2016 and has netted 19 goals in 212 games for the club.
"This is a club with a fantastic future and I want to be a part of it for as long as possible," he said.
Fernandinho, who has made 30 appearances in all competitions so far this season, has been described as "one of the best three holding midfielders in the world," by City boss Pep Guardiola.
"He [Pep] has worked with a lot of great players," said Fernandinho. "If someone like him says that you know you are doing the right things.
"With Pep in charge, I feel sure we can win significant silverware and, importantly, we will try to do it playing attractive, attacking football."