Fernández de Kirchner asks for judicial permission to go to Cuba to see his daughter after winning the Vice Presidency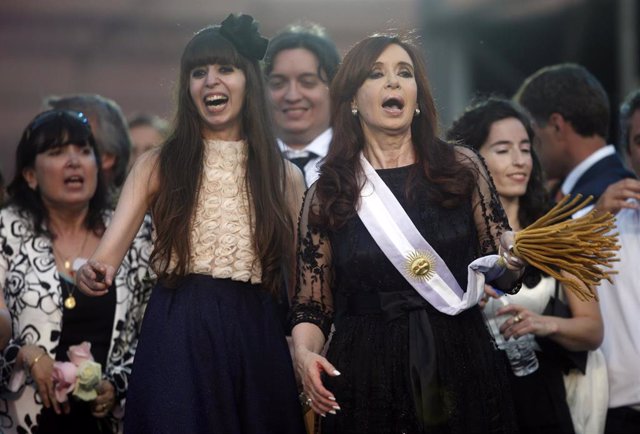 Former Argentine President Cristina Fernández de Kirchner and her daughter, Florencia – REUTERS – Archive
BUENOS AIRES, Oct. 28 (EUROPE PRESS) –
Former Argentine President Cristina Fernández de Kirchner has requested authorization from the court to judge her for a case of corruption to travel to Cuba with the purpose of visiting her daughter, Florencia, who is prevented by a disease from leaving the island, just one day after becoming elected vice president of the country.
Alberto Fernández and Fernández de Kirchner were the candidates for the Presidency and the Vice Presidency of the Front of all, which on Sunday was imposed at the polls to the Together for the Change of the outgoing president, Mauricio Macri.
Just 24 hours later, Fernández de Kirchner has asked the Federal Oral Court 2 to judge her for alleged irregularities in the adjudication of public works in Santa Cruz during his Government (2007-2015), to allow her to travel to Cuba and remain there between November 1 and 11, judicial sources have reported to the Argentine newspaper 'La Nación'.
The leftist leader has sent the same petition to the Federal Oral Court 7, in charge of the second trial that will be held against her by the so-called 'corruption notebooks'. Against Fernández de Kirchner there are several causes for corruption that she attributes to a political persecution of the Macri Administration.
Fernández de Kirchner has already traveled several times to Cuba in the framework of these legal proceedings, although always with prior authorization. According to the story of the former president, her daughter fell ill because of the harassment of Justice to the family. The disease surprised her on the island and her fragile state prevents her from flying to Argentina.
The new 'Kirchnerist' government, which follows the two of Fernández de Kirchner and another her late husband, Néstor Kirchner, will open on December 10, although contacts for the transition of power in Argentina have begun this Monday with a one hour meeting between Fernández and Macri.
Some voices warn that the return to power of Fernández de Kirchner – designated as the true power of the presidential tandem – has the sole objective of curbing judicial investigations against her and her two children, Florencia and Máximo.