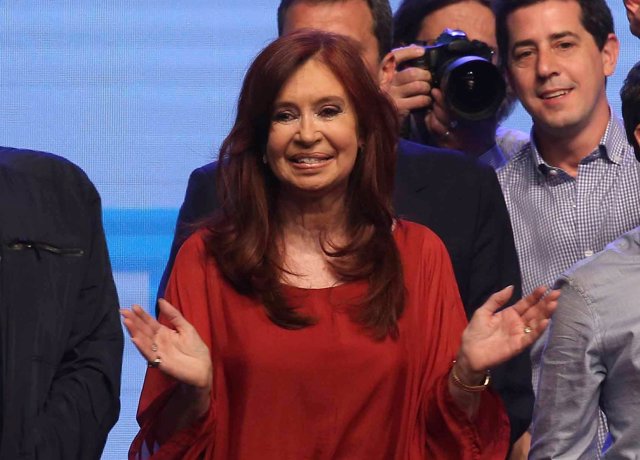 File photo of Cristina Fernández de Kirchner – REUTERS
MADRID, Nov. 13 (EUROPE PRESS) –
The elected vice president of Argentina, Cristina Fernández de Kirchner, has criticized the "new fashion in Latin America" ​​of presidential self-proclamation in reference to Jeanine Añez, an opposition senator from Bolivia who has declared herself a substitute for Evo Morales after the power vacuum left by the leader indigenous with his resignation.
Fern á ndez de Kirchner criticizes the "new fashion in Latin America" ​​of presidential self-proclamation
"A new fashion has been installed in Latin America: It seems that the presidents are no longer chosen by the peoples … Now, they proclaim themselves with great media sponsorship and immediate recognition of we already know who. The funny thing is that they say they do it in name of democracy, "he criticized on Twitter.
Fernández de Kirchner, Argentine president between 2007 and 2015 and future 'number two' of the Casa Rosada, once he takes office on December 10 in Buenos Aires, he has already denounced in recent days that "Bolivia is called coup".
"If we want to live in peace, it is time for pronouncements and, above all, clear actions in defense of democracy, regardless of the political orientation of the governments that arise from the popular will," he said Sunday, in the middle of the Bolivian crisis.
Bolivia is in deep crisis since the presidential elections of October 20. The official results gave Morales the victory, but the opposition candidate Carlos Mesa denounced a "gigantic fraud" of the Government.
Both sides called for the mobilization of their supporters, which resulted in clashes, blockades and looting that have resulted in at least seven dead and hundreds of detainees.
In this context, Morales agreed that the Organization of American States (OAS) conducted an electoral audit that has finally confirmed irregularities. In response, the still president agreed to hold new elections, despite which the uniformed claimed his departure from the Burned Palace.
Morales resigned on the same Sunday and Monday night (local time) embarked on a plane to Mexico, where he arrived Tuesday as a political asylum. "As long as I have life, we continue in politics," he has already proclaimed on Mexican soil.
The resignation of Morales has left a power vacuum because the people called to succeed him, according to the Constitution – the vice president and the presidents of Sendo and Chamber of Deputies, in this order – also resigned.
Añez, second vice president of the Senate, has proclaimed interim president without the support of Congress, which has not achieved quorum because the official parliamentarians have refused to attend the Legislative Assembly.