Fed Cup: Great Britain captain Anne Keothavong wants parity with Davis Cup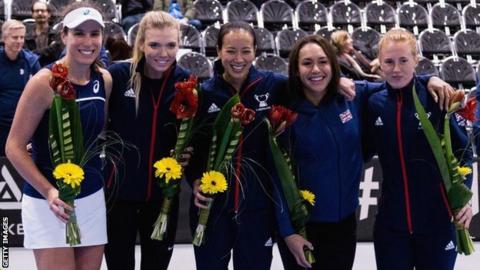 Japan v Great Britain – Fed Cup 2018 play-offs
Venue: Bourbon Beans Dome, Miki, Japan Dates: 21-22 April
Coverage: Live TV streaming on the BBC Sport website and mobile app, Radio 5 live updates, plus live text commentary on 22 April
Great Britain captain Anne Keothavong says the Fed Cup must not be "ignored" while so much "time and energy" is being devoted to Davis Cup reform.
GB will be promoted to the World Group for the first time since 1993 if they beat Japan in a play-off this weekend.
In February, the International Tennis Federation (ITF) announced plans for a new-look Davis Cup.
"I hope the ITF value the Fed Cup as much as the Davis Cup – and give women a chance to shine," said Keothavong.
Unlike the Davis Cup, the World Group of the women's event is currently split into two divisions of eight teams.
Under the current format, the winners of the GB-Japan tie would have to earn another promotion in 2019 to be able to compete for the title in 2020.
"I would like to see a 16-team World Group," Keothavong told BBC Sport after a penultimate day of practice at the Bourbon Beans Dome in Miki, near Kobe.
"I would like to see the ITF do something with the Fed Cup competition which brings it in line with Davis Cup."
The ITF announced plans for a 25-year, $3bn (£2.15bn) partnership with the investment group Kosmos which would see the Davis Cup fought over by 18 teams at an annual end of season event.
It remains to be seen whether the proposal will get the support required at August's annual general meeting but the idea has generated great debate.
"We're all aware of huge plans for Davis Cup," Keothavong continued.
"A lot of time and energy has gone into how they can improve Davis Cup, and I don't want Fed Cup being ignored. We've got to put Fed Cup in the spotlight. We shouldn't settle for anything less than Fed Cup being on the same platform as Davis Cup."
"I want Fed Cup to come into line with Davis Cup so it's a competition people can follow, fans can follow, players can understand – and so we represent men's and women's tennis equally."
The ITF has said very little publicly in recent months about its plans for Fed Cup reform, but is still working towards the formation of a 16-team World Group – and hinting at greater financial rewards.
"The ITF remains committed to enhancing the Fed Cup competition," president David Haggerty said in a statement to BBC Sport.
"Our immediate priority is to increase the size of the World Group to 16 nations in 2019, played over the traditional three weeks and including a Fed Cup Final Four event. This would allow twice as many nations to challenge for the trophy each year, and better movement between the World Group and zone group events.
"The Kosmos proposal for Davis Cup will also enable us to increase the Fed Cup prize money in 2019. Kosmos has already expressed an interest in Fed Cup, and we will continue to have discussions with them about the future of the competition."
So there is much at stake in Kobe this weekend. Japan's team is headed by the Indian Wells champion Naomi Osaka, who is now ranked one place above Britain's number one Johanna Konta.
"I know anything is possible this weekend, so I do see this tie as being very much 50-50," Keothavong said.
"Everyone's motivated to do well and to showcase women's tennis because British female players are very capable, and it's something we want to show off to the British public."