Fauda: The drama lifting the lid on Israeli snatch squads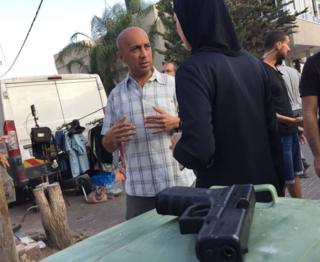 A jeep roars up to the farmhouse in the Negev desert in southern Israel and Doron – a tough-looking man with a shaved head – jumps out, his gun blazing. The camera pans back as the director shouts "Cut!"
I am on the set of Fauda, the Israeli television thriller that portrays the murky world of Israeli undercover army units and Palestinian militants during the Second Intifada (Palestinian uprising against Israeli occupation).
It shows not just the violence but the moral dilemmas too and has been a hit not only in Israel but surprisingly in Arab countries as well, and globally on Netflix.
Lior Raz, the actor who plays Doron, and journalist Avi Issacharoff, an Arab affairs specialist, created Fauda, or "chaos" in Arabic.
The two friends served together in an undercover unit whose soldiers, disguised as Arabs, infiltrate Palestinian areas to capture wanted men.
"We wanted to show how they [militants and their families] live, their experiences, the price they're paying for their actions," says Lior. "For the Israeli audience we open a window for them to see how people live over there."
From the heart
Avi drove me through the streets of Hebron in the occupied West Bank, where he still reports from. His own experiences and contacts shaped the Palestinian characters in Fauda.
"We wanted to bring the complexity of this conflict to audiences, not only the undercover units and what they do, but also what it looks like on the other side, the Palestinian side," says Avi.
Hamas, the Islamist group which is Israel's sworn enemy, claims Fauda is "Zionist propaganda", but according to Avi the group still puts a link to the show on its website.
The main Palestinian character in the first series of Fauda was Abu Ahmed, a Hamas militant played by Arab Israeli actor Hisham Suliman.
"Fauda tells people the truth and because of that it speaks to people from the heart, not just from the head," says Hisham.
Hisham gets mobbed by Israelis on the street begging for selfies and receives fan mail from all over the Arab world. He believes both sides can relate to Abu Ahmed's story.
"The Palestinian issue is very complicated – it's not black and white," Hisham explains, "but Fauda managed to deconstruct some of the symbols of the conflict and produced a new viewpoint and explanation."
Good and bad
Lior and Avi deliberately set out to portray the brutal conflict in a new way, depicting common characteristics between both sides.
"[In Fauda] they are all-rounded characters – even if he's an evil terrorist he's got to love his wife and you have to show it and he has kids and you have to show it," says Lior, "and also the good guys are doing bad things sometimes," he adds, alluding to his compatriots.
On the set in a real Israeli hospital made to look like a Palestinian one, I talk to Laetitia Edo, the French Lebanese actress who plays Dr Shirin.
This strong Arab woman is an unusual lead character in a television drama in this region. The character faced a moral crisis when militants in her own family used her to surgically implant a bomb inside a wounded Israeli undercover soldier.
"Both sides are bad – and good," says Laetitia, "and that's why people are saying for the first time, 'I have compassion for the other side'.
"So this for me is a small, but still a, victory."
"Shirin, for us, is representative of the innocent people in the conflict, who are not into killing other people," says Avi. "She just wants to live her life, and this is what's so sad about this character."
'Fighting and resisting'
We wanted to find out how close Fauda was to the world it claims to mirror – what do the real-life counterparts on both sides make of the television show?
After our own game of cat and mouse to find Palestinian militants willing to talk, we met two heavily armed masked men in a house in Shuafat refugee camp, on the outskirts of occupied East Jerusalem. They carry out attacks on Israelis and try to outwit the undercover units hunting them down.
"We're covered up not because we're afraid but because we're fighting and resisting for our cause – for our homeland to be liberated from the occupation," the first man says, fingering his gun.
His companion was scornful about Fauda, but admitted watching it: "In this trivial series, Israel showed a lot of the Palestinian side – not because they love the Palestinians but to weaken and terrorise them," he says.
'In and out'
The Israeli border police have an undercover unit called Yamas which has been operating for 25 years but had never been filmed before we gained exclusive access to them.
"The best arrests – like Muhammad Ali said 'float like a butterfly, sting like a bee' – are in and out as quickly as possible, leaving no trace," the Yamas commander tells me.
"Fauda is very close to the real thing – the standard of the fighting is very, very high," he adds.
On a training exercise, late at night, two men from Yamas, looking like Palestinians and speaking fluent Arabic, seize their target from a store.
But they've been rumbled and shots ring out. A back-up team jumps out of a parked van and a battle erupts on the street before the Israelis manage to escape with their target.
"You have to train for years, study them well until you have the experience to blend into their society," one of the unit tells me. "You need a sixth sense – even the smallest mistake can cost you your life.
"Our ability to surprise them by making war through trickery – this is the element that strikes fear into the other side," says the Yamas commander. "It puts them on edge all the time."
On the shooting range I ask the Yamas snipers about Fauda. "It's an excellent series," one tells me, "but the reality exceeds the imagination of anything you see there."
The real Fauda will be broadcast on BBC World at the following times (GMT):
Saturday 6 January 09:10, repeated 2010
Sunday 7 January 02:10, repeated 15:10