Father wants safety checks on glass tables after his shatters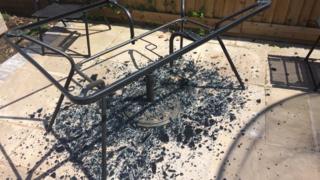 A father from Rochdale has called for safety checks to be done on glass patio tables after his shattered suddenly.
The table, belonging to Darren Smith, 36, Nicola Smith, 38, and Connor Smith, five, broke at their home on Sunday.
Mr Smith shared photos on his Facebook page and many people responded to share their similar experiences.
Mr Smith says he bought the glass table from B&Q, which could not confirm it sold it to him, but said: "Instances of this nature are very rare."
Respondents to Mr Smith's Facebook post told similar stories of patio tables bought from a range of outlets.
Mr Smith also shared a video saying: "Here is the noise of the glass straight after the smash… little pieces flying everywhere when it cracks and pops."
Speaking to the BBC on WhatsApp, Mr Smith said: "My wife and little boy jumped out of their skin when it happened.
"They were in total shock at what had happened. I came rushing round to see the mess it had made.
"I was shocked to think what could have happened if we had been sat at it having dinner – which had been the plan."
Nicola Smith told the BBC: "My son started walking over and I had to stop him from going closer.
"The glass was everywhere and it was making this awful crackling sound.
"It absolutely scared the life out of me and I just dread to think what might have happened if I or my son had been closer or even sat at the table."
Commenting on Mr Smith's post, Sarah Rigsy Riggs said:: "Yes – only had it couple of months – came home from work and it was shattered all over the decking. We got a full refund. Just glad we weren't sat round it at the time"
Sharon Andrews wrote: "This happened to my daughter's table too."
"This happened to our glass table… but a small stone landed on it and it just shattered," Kirsty Gurney commented.
Kirstie Youngson shared a photo, saying: "Happened to mine from the factory shops, again all my fault!"
Laura Ann said: "Ours did this a few years ago. No idea where it was from. There's still glass down the paving slabs now."
B&Q told the BBC: "The safety of our customers is of paramount importance.
"We are in touch with the customer to understand what has happened, as instances of this nature are very rare."
Mr Smith told the BBC: "It's an absolute safety hazard for anybody sitting at one of these.
"A serious incident is going to happen if something is not done about it."