Farmers hit by record straw prices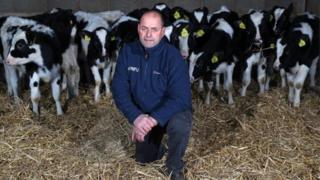 "You almost need a Securicor escort to move a load of straw up the motorway these days," says farmer Michael Oakes.
His dairy farm, in Bromsgrove in Worcestershire, has suffered much from this winter's poor weather, as have many farms in the country.
The poor weather has prompted a spike in demand for straw, while last year's weather conditions severely curtailed straw production. The combination has pushed the price of both wheat and barley straw to record levels.
In February, the average barley straw price in England and Wales was £90 a tonne, 73% from a year earlier, while wheat straw was £81 a tonne, up 62%.
"Everybody's bank accounts have taken a big hit," says Mr Oakes, who is also the chairman of the National Farmers' Union's (NFU) Dairy Board.
Last year's dry spring meant a sparser crop. Very wet weather then limited the number of harvest days, curtailing the crop further.
Simon Dee Shapland, from straw supplier Abbot & Co, explained that wet weather also affected the harvest in two other ways: "When straw gets wet in the very large swathes left by the modern combine harvesters, it is very difficult to get it dry enough to bale.
"And that frustrates the farmer in re-sowing the fields again. They often decide to chop the remaining crop [back into the soil]."
On the demand side, that same wet weather has kept livestock indoors for longer, meaning a greater need for bedding and feed.
Although straw producers have less straw to sell, you would think they would find some relief in the higher prices. But not all of them can access this.
Excess straw, which acted as the farmers' reserve supply in years gone by is now used as biofuel, adding to demand and helping to keep prices high.
But Gavin Strathern from Blackwater Baling in Essex, which buys and sells straw, says many companies like his are on contracts to supply power stations and so are unable to sell their goods on the open market.
"Demand has increased four-fold from the power generators as, until recently, there was only one power station burning 250,000 tonnes of straw per year and now we have four burning 1 million tonnes per year."
Many farmers have been struggling to pay the extra costs for the straw they need.
As a result, the NFU has relaunched its fodder bank, a service that helps its members find animal bedding and feed.
"As well as contributing £112bn to the economy and providing 3.8 million jobs, food and farming underpins rural communities and it is during these difficult times that the support of both government and the wider industry is so important," the NFU said.
Other options
The Department for Environment Food & Rural Affairs said there were other bedding options available.
"We understand the impact rising wheat straw prices are having on farmers," a spokesperson said.
"Farmers and livestock keepers seeking a cheaper alternative to straw should discuss alternative bedding with their vet so that animal health and welfare issues are considered. There are alternative types of bedding such as waste paper or recycled wood shavings."
Mr Oakes says this is something farmers are aware of, but prices there are rising too: "That can work for some systems, but it doesn't work for all – because the demand for those products has shot up.
"If straw is expensive, farmers look for other types of bedding, but the cost of that is up about 25%. I'm using sawdust to bed some of my cows. The price of that should drop at this time of this year but it's gone the other way."
Waterlogged
Farmers are now keeping their eye on the forecast. Mr Shapland says conditions need to be very favourable to fill the barns up again.
The Agriculture and Horticulture Development Board says the weather is improving which should provide some relief: "Grass growth records are finally recording some strong daily growth. However, with many fields currently waterlogged it may not be as simple as turning livestock back out just yet."
Back in Bromsgrove, Mr Oakes says the leaner times are not over: "It will have an effect on next winter – normally we all carry a bit over – this time most of us are going into summer with no stock.
"A lot of crops would be planted in the spring, but a lot of farmers are saying its too late to plant now.
"It does look like its going to be another very expensive winter next year."