Farage warns that the Brexit Party could be key to the elections in a divided Parliament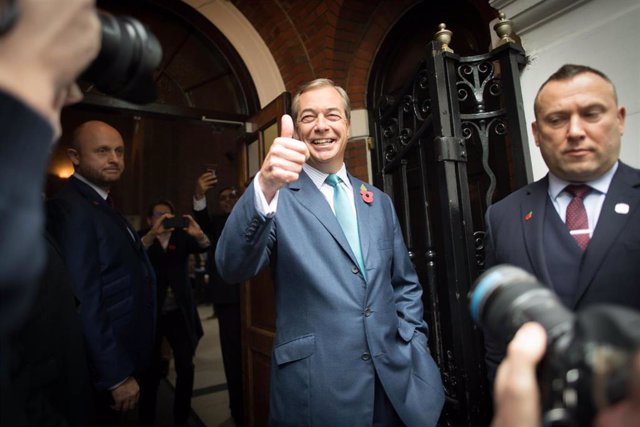 Nigel Farage, in an act of his party in London – Stefan Rousseau / PA Wire / dpa
LONDON, Nov. 4 (Reuters / EP) –
The leader of the Brexit Party, Nigel Farage, has warned on Monday that his formation could play a key role after the legislative elections of December 12 if the result of the appointment with the polls gives rise to a divided Parliament.
"It is likely. We are likely to have a divided parliament next time, so if the Brexit Party really has a reasonable number of people inside, it could have a great influence," Farage said, in statements to the chain of ITV television. "May remained in power for ten deputies of the DUP," he said, referring to the support of parliamentarians of the Democratic Unionist Party (DUP), which allowed Theresa May to re-form government after the last elections, in which her Party lost the absolute majority.
Farage has said that, with a significant number of parliamentarians, the Brexit Party could harm the Labor Party "in the most extraordinary way."
On December 12, British citizens are called to the polls to decide who assumes the reins of the country at a key moment for the process of leaving the European Union, with the current British Prime Minister, Boris Johnson, defending the agreement he has reached with the European Union for the abandonment of the block, against the commitment of the Labor Party, which rejects the Johnson agreement and advocates calling a new referendum on Brexit.