Family with 9-year-old girl bombed churches
Some of the suicide bombers were on motorcycles, while one of the attacks was carried out by a suicide bomber disguised as a churchgoer. A police official also said the attackers included a veiled woman who had two children with her.
At least four people were killed and more than 40 wounded in the first attack at the Santa Maria Roman Catholic Church. The dead included one or more bombers, officials said.
Shattered glass and chunks of concrete littered the entrance of the church, which was sealed off by heavily armed police.
Rescuers treated victims on a nearby field while officers were inspecting wrecked motorcycles in the parking lot that were burned in the explosion.
The blast was followed by a second explosion minutes later at the Christian Church of Diponegoro and a third at the city's Pantekosta Church, police spokesman Frans Barung Mangera said.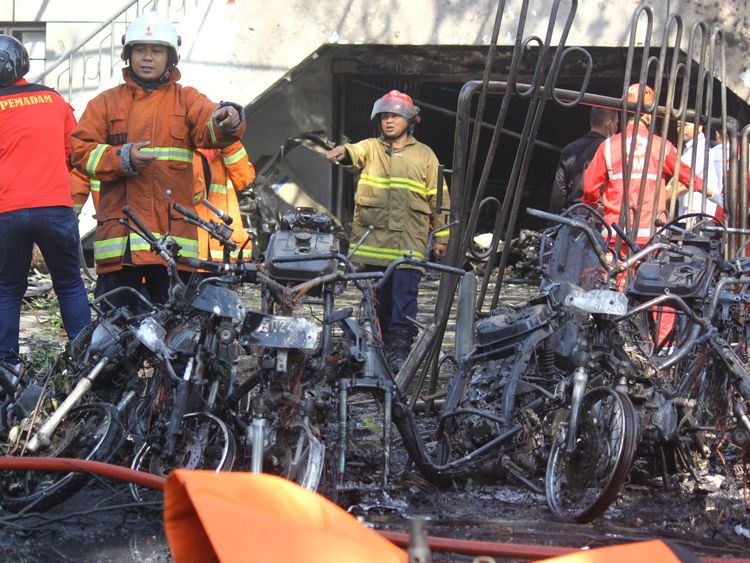 The bombings were the worst since a series of attacks on churches on Christmas Eve in 2000 killed 15 people and wounded nearly 100.
Religious minorities, especially Christians, have been repeatedly targeted by militants
The latest attacks in predominantly Muslim Indonesia came days after police ended a riot and hostage-taking at a detention centre near Jakarta that left five dead.
Islamic State claimed responsibility after Indonesia launched a crackdown on militants following bombings by radical is Bali in 2002 killed 202 people.