Extreme weather: Social media reaction in US and Australia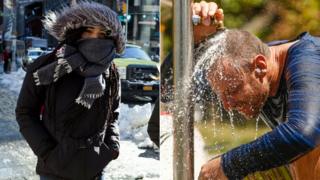 The contrast couldn't be greater. The eastern US is experiencing record-breaking low temperatures while in Australia, the city of Sydney has had its hottest weather in nearly 80 years.
Posts on social media are reflecting what the extremes feel like.
The US National Weather Service said the temperature in New York City had reached an all-time low for 6 January of -13C (8F).
Thousands of flights from the city's John F Kennedy airport were delayed by blizzard conditions, and other airports in the eastern US also suffered problems.
In eastern Canada, temperatures close to -50C (-58F) were forecast for northern Ontario and Quebec. Toronto airport has also experienced delays and cancellations.
The freezing weather comes in the wake of a powerful winter storm that dumped snow as far south as Florida.
Meanwhile in Sydney, extreme heat cut power to thousands of people, and charities were handing out water to the homeless.
Play at an international tennis tournament in Sydney had to be postponed when temperatures rose above 40C, while cricketers from England and Australia playing at Sydney Cricket Ground endured the hottest day recorded during a Test match in Australia.
Wildfire warnings are in place for the Sydney area.