Ex-Playmate and boy fall to deaths from New York hotel suite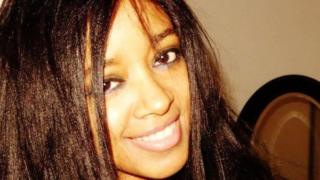 A former Playboy model has plunged to her death with her seven-year-old son from the window of a New York City hotel.
Both the 47-year-old woman, Stephanie Adams, and the boy, Vincent, were pronounced dead at the scene, the Gotham Hotel in midtown Manhattan.
She was in a bitter custody battle with her estranged husband over the child, according to local media.
Ms Adams had checked into a 25th-floor penthouse suite on Thursday evening.
Police told reporters the woman and boy fell 23 floors and landed on a second-floor balcony in the back courtyard of the hotel on Friday morning.
Police are investigating the circumstances but officers' radio communications suggested that suicide might be a factor, the New York Times reported.
A waiter at the hotel's restaurant told the New York Daily News: "One of the guests of the hotel they called the lobby.
"They said, 'We saw a dead body.' They said one but then they realised there [were] two."
According to her website, Ms Adams was Playboy's Miss November 1992 and once dated Hollywood actor Robert De Niro.
She was in a child custody battle with ex-husband Charles Nicolai, who owns a Manhattan chiropractic clinic, report local media.
The estranged couple had appeared in Manhattan Supreme Court on Wednesday morning, reports the New York Post.
A judge reportedly denied Ms Adams permission to take her and Mr Nicolai's son to Europe for the summer so she could see her boyfriend.
Police had reportedly been called to their home several times in recent months.
On her website, she said she authored New Age books, astrology calendars and tarot cards.
The New York Post profiled Ms Adams in 2013, saying she ran an online beauty products company, managed the finances in her husband's office and had two business degrees.
"The stereotypes are sexist and unfair," she told the newspaper.
"Just because I look a certain way and have expensive tastes, it doesn't mean I'm shallow. Style and looks don't mean lack of brains, sweetheart!"
Where to get help
From Canada or US: If you're in an emergency, please call 911. If you or someone you know is suffering with mental-health issues, call Kids Help Phone at 1-800-668-6868. If you're in the US, you can text HOME to 741741
From UK: Call Samaritans on 116123 or Childline on 0800 1111