Ex-Catalan leader claims win for separatist bloc
Although the anti-separatist Citizens Party won the most seats with 37, the pro-independence bloc of parties won a larger number combined.
Mr Puigdemont's party won the second largest number of seats with 34.
The other two pro-independence parties won 32 seats and four seats, which, combined with Mr Puigdemont's party, gives a total of 70, exceeding the 68 needed for an absolute majority.
Mr Puigdemont will need to hold negotiations with the other pro-separatist parties to see if they can form a coalition.
::'Families are torn apart' – Catalonia divided as voters go to the polls
Catalonia went to the polls after its government was dissolved by Madrid who deemed its declaration of independence in October "illegal".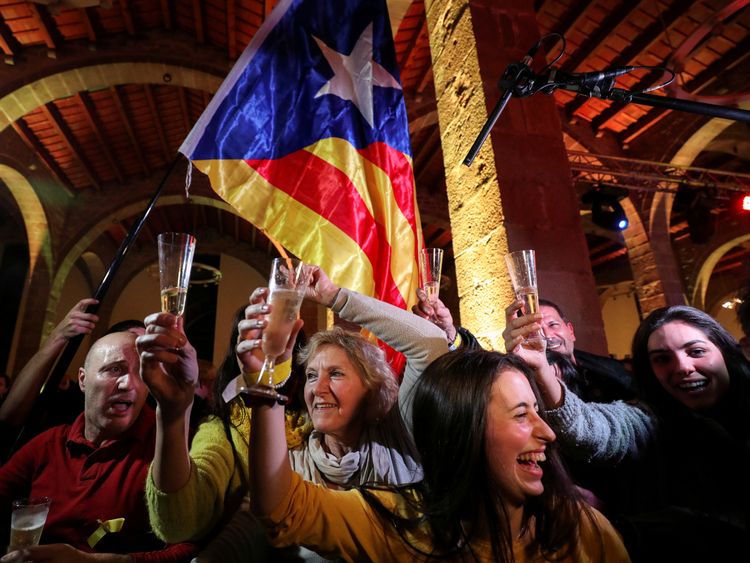 Mr Puigdemont says Thursday's majority by separatist parties was a victory for the "Catalan republic" over the Spanish state, and said Spanish Prime Minister Mariano Rajoy and his allies "have lost".
The ousted Catalan leader was speaking from Brussels, where he went into self-imposed exile after his government was sacked by Mr Rajoy when he declared independence from Spain.
"This is a result which no one can dispute," Mr Puigdemont told supporters in Brussels.
"I think we have earned our right to be listened to."
:: Catalonia Independence: The political divide in Barcelona
Mr Puigdemont said it was "a slap" for the Spanish PM, adding: "Rajoy has lost the mandate he sought."
The leader of the pro-Spanish party that won the most votes promised her party will continue to fight the region's separatists.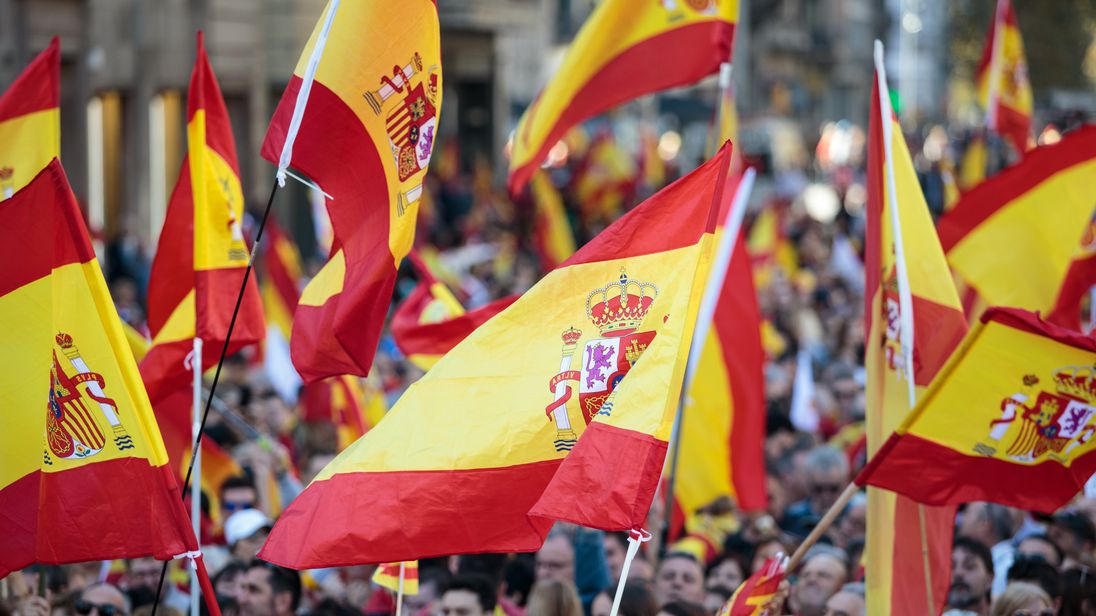 "The pro-secession forces can never again claim they speak for all of Catalonia," Ines Arrimadas said.
"We are going to keep fighting for a peaceful co-existence, common sense and for a Catalonia for all Catalans."
"Today we have sent a message to the world, that the majority of Catalans feel Catalan, Spanish and European and will continue to do so," she added.
More from Catalonia



Catalonia election hasn't eased the divides




As it happened: Ousted Catalan leader claims election victory




'Families are torn apart' – Catalonia divided as voters go to the polls




Tight fight as Catalan election campaigning draws to an end




WikiLeaks founder Julian Assange told to keep out of Catalonia crisis




Catalonia independence: What you need to know
It is unclear what Mr Puigdemont's next move will be, and Sky's Europe Correspondent Mark Stone said the ousted leader is still at risk of being arrested when he returns to Spain.
"There is no longer an international arrest warrant out for him, but there is a domestic arrest warrant and up until the point of this election the Spanish authorities were clear that if he were to return to Spain, he would be arrested."