Ex-Canadian PM says women's bare arms on TV 'demeaning'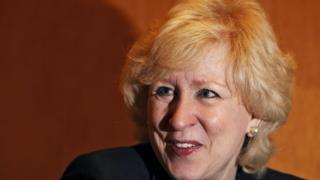 A former Canadian prime minister has said that female television newscasters who show bare arms "undermine credibility and gravitas".
Kim Campbell, who served briefly as prime minister in 1993, came under fire shortly after her tweet on Tuesday.
Ms Campbell included a link to a blog post that suggested people who wear more clothing are viewed as smarter.
She said the blog post proved she was right to think it was "demeaning" to go sleeveless on television.
Her tweet pointed to a blog post by US communication coach Nick Morgan, who referenced a study suggesting people are seen as smarter when they cover up.
"Apparently, we humans are pretty simple creatures. If you show up in front of us with skin exposed, we're going to think about your body. If you're wearing lots of clothing, we're going to think about your mind," he wrote.
He told readers preparing for a public speech to "think about what this means when you put on that sleeveless dress, women, or that expensive, cool-looking casual t-shirt, men. It means you're going to look less brilliant than if you covered your arms".
People who commented on Ms Campbell's tweets were quick to point to women like US former first lady Michelle Obama, who often wore sleeveless dresses.
Ms Campbell responded, saying that Ms Obama "doesn't read the news".
Some Twitter users posted a famous black-and-white portrait of Ms Campbell.
In the photo, she provocatively holds up lawyers robes on a hanger, offering a peek of her bare shoulders.
"Photo was art- juxtaposition of bare shoulders (femininity) and legal robes -(male dominated power structure)," the former PM tweeted.
Ms Campbell said she "was just struck by this article and my own sense that women on tv are expected to present a different image from men".
You might also like: