Evo Morales resigns as president of Bolivia
460756.1.644.368.20191110215551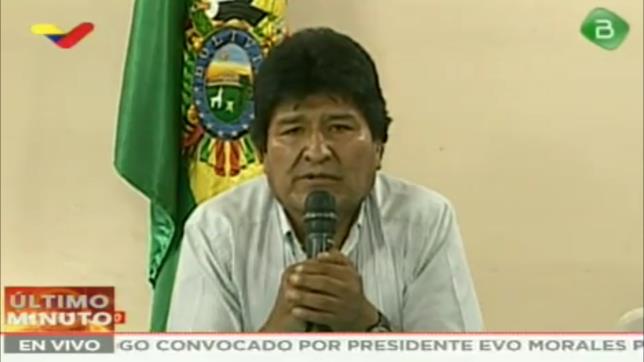 MADRID, Nov. 10 (EUROPE PRESS) –
The president of Bolivia, Evo Morales, announced on Sunday his resignation as president after the audit of the Organization of American States (OAS) has called for the repetition of the presidential elections on October 20. He has also resigned his vice president, Álvaro García Linera.
"Our great desire is for social peace to return … The whole world that knows how oligarchic groups conspire against democracy," Morales said in his resignation speech.
In addition, he has referred to opposition leaders Carlos Mesa and Fernando Camacho. "I hope that Mesa and Camcho and other civic committees do not mistreat, do not harm, do not deceive with lies, do not use the people with warnings," he said.
Morales has also referred to the resignation of several senior officials and congressmen of his party, the Movement To Socialism, who have resigned after reporting threats and even the kidnapping of relatives. "I am resigning so that my sisters and brother leaders, MAS authorities do not continue to be harassed, persecuted, threatened," he argued.
"I am very sorry for this coup. I want to tell you the fight does not end here. We will continue with this fight for equality and peace," said Evo Morales. "My resignation is no betrayal of social movements and indigenous movements. The struggle continues," he added, while denouncing that his "sin" is "to be a union leader, to be indigenous, cocalero."
In that sense, Morales has claimed the legacy of his government. "We are leaving a new Bolivia, a Bolivia in the process of development. I want young people to be more supportive and more humane, to have values, to the National Police are not an instrument of capitalism," he said.
In addition, Morales has denounced that they offered $ 50,000 to his security personnel to deliver it and has pointed to Mesa and Camacho if something happens to him. Morales has also referred to the OAS report, which he has urged to tell the truth about this "coup d'etat."
Immediately afterwards, the resignation of the vice president, Álvaro García Linera, who has accompanied Morales as his 'number two' since he arrived at the Burned Palace in January 2006, has been known. "I have been the vice president of an indigenous, of a farmer, and I will always be loyal, "García Linera said in the video broadcast on state television.
"I will always be by your side, accompanying you in good times and bad times," he added. In fact, according to some local media, Morales and García Linera have departed together from the El Alto airport on the presidential plane.
Morales 'number two' has also denounced that "the coup has been consummated." "Strange forces, if you were dark, intimidated people to block, to hit women with sticks and nails, it was the first stage of a coup d'etat to dismiss a democratically constituted government," he added.
"We have not caused deaths. It is they who have caused … We have made that decision so that violence is not used so that they do not mistreat more families, so that they do not beat our people more," he said.