Evo Morales: "I have fulfilled my management, I have fulfilled my task, but the struggle continues"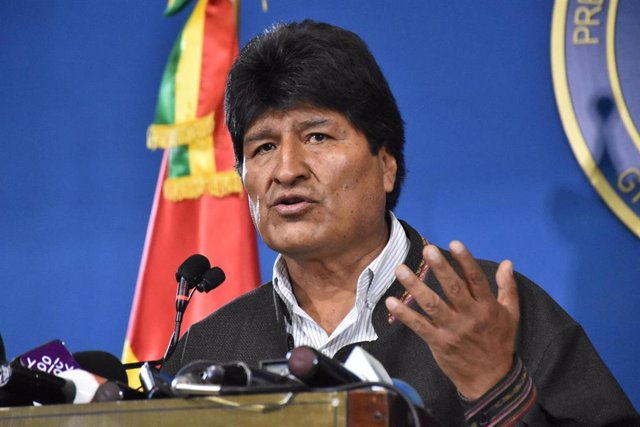 The former president of Bolivia, Evo Morales – ABI
Morales regrets that the armed forces are "accomplices of a dictatorship"
MADRID, Nov. 16 (EUROPE PRESS) –
Bolivia's ex-president Evo Morales said Friday that he feels "former president" after submitting his resignation and stressed that he has "complied" with his administration, but "the struggle continues."
"I feel Evo, I feel ex-president after submitting my resignation," Morales said during an interview for the CNN network. "I have fulfilled my management, I have accomplished my task, but the fight continues," he added.
Morales has stressed that if the Assembly rejects his resignation, Bolivia "would have two presidents: one de facto, product of the coup, and another legal, constitutional, which would be Evo Morales."
Likewise, the ex-president has stressed that he did not resign "as a coward", but did so because "he did not want the violence exerted by the right" to continue.
"I want the whole world to know that I have constantly taken care that there are no dead," he said. "I resigned so that he did not continue to mistreat the racist right first, then fascist and now coup", he added, adding that he feels that now "they are genocidal."
During the interview, the former president has lamented that the country's Armed Forces are "complicit in a dictatorship and what is happening right now" in Bolivia.
"This is the true dictatorship, how to live with a coup d'état. Now that the new generations know that in a dictatorship one lives with so many dead," said Morales, who has lamented that "they are killing my brothers."
The former president has also insisted that he won the elections held on October 20 in the first round. "They accused us so much that we were dictatorship because we had won so many elections with more than 50 percent, 60 percent. The last elections we won in the first round. Now it's dictatorship," he added.
The self-proclaimed interim president of Bolivia, Jeanine Áñez, on Friday described the Government of Mexico as "pimp" of Morales after granting him asylum, but has ruled out that he would break relations with the country.
"It seems to me a macabre attitude that the Government of Mexico is sinning as an accomplice of so much barbarism and violence in the country … It really surprises me that the Government of Andrés Manuel López Obrador is sinning of a pimp," said Áñez, also in an interview for CNN.
Áñez has urged Morales to stop "encouraging violence" and stressed that he is "fighting for our democracy and you have no right to come and steal an election."
At least 16 people have died during the protests after the elections in the country, nine of them in Cochabamba, two in La Paz, four in Santa Cruz and one in Potosí.
Morales resigned on Sunday after the audit of the Organization of American States (OAS) confirmed "irregularities" in the presidential elections of October 20. The opposition had denounced a "gigantic fraud."
The resignation of Morales joined those of other senior officials, including calls to replace him according to the line of succession drawn by the Constitution, so Jeanine Áñez, as second vice president of the Senate, took over the country.
Áñez has promised that only the time necessary to hold new presidential elections will remain in power, although he has clarified that Morales will not be able to compete in them, thus asserting the result of the 2017 referendum, which was reversed by the Constitutional Court .
Morales and his followers have described what happened as a "coup d'etat." In this regard, he has revealed to Reuters that the United States offered him a plane to take him out of Bolivia and take him wherever he wanted. "I'm sure it would have been Guantanamo," he joked.