Everybody's Talking About Jamie: West End smash to be made into film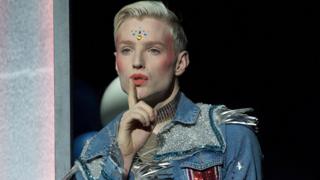 West End musical Everybody's Talking About Jamie will be turned into a feature film, it has been announced.
The show – about a 16-year-old boy from Sheffield who wants to be a drag queen – has also just had its run at London's Apollo Theatre extended.
The musical was inspired by a BBC Three documentary Jamie: Drag Queen at 16.
Warp Films, who are behind films including Tyrannosaur – starring Olivia Colman – and the TV series This is England, will adapt the musical.
The story came about after 15-year-old Jamie Campbell wanted to wear a dress to his school prom.
Speaking to BBC News after the film adaptation was announced, Jamie said: "I was jealous that all the girls got to go to prom in these amazing, glamorous dresses.
"I spoke to my mum about it and she said 'Well, why not wear one too?'
"I was worried about my safety, if I went through with it, so I thought what I needed was a film crew and then no-one would touch me."
Jamie sent off a film pitch to various TV production companies, finally getting a documentary commissioned, which followed his journey – and aired on the BBC.
This, in turn, was adapted into a musical, which played at Sheffield's Crucible theatre.
"I thought it was just going to be a small community show," says Jamie. "I had no idea it was going to be as big as it was, even at the Crucible. I was in tears when i saw it.
"And now it's being turned into a film – I absolutely can't believe it! This is just so crazy."
Nica Burns, who is the producer of the West End production, saw the show on its very last performance of a 19-night run at the Crucible.
"I cried twice when I saw it and skipped out singing and dancing – there were grannies and kids in the audience, just all sorts of different people," she recalls.
"I went straight out into the foyer, and told the team behind it I wanted to take the show to London. Right then and there I offered them a theatre to show it in.
"That was a first for me – I normally go away and think about it."
Everybody's Talking about Jamie has seen a successful and critically-acclaimed transferral to the West End – receiving five Olivier nominations earlier this year – with The Guardian calling it "a fizzing, feeling instant hit", and The Daily Telegraph predicting it to "become a cult classic".
Marianka Swain – the UK editor in chief of Broadway World told the BBC: "After watching dozens of West End shows, it felt like a breath of fresh air."
"I loved it," she adds. "It's one of those joyfully feel-good shows.
"It has a strong message but wears it lightly," she says ascribing its success partially to its "brilliant working class Sheffield script" and "amazingly diverse cast".
"The core message about love and acceptance means a lot to people. And the story isn't even about the main character coming out – but being able to express himself fully. I really think that shows how far we've come.
"I think it will translate really well as a film. People seem to be lapping up musicals at the moment. Look at the success of The Greatest Showman."
Mark Shenton, theatre critic and associate editor of The Stage – who's seen the show seven times – has noticed the same thing: "There has been a resurgence in musicals and this has all the ingredients to make a great film.
"The fact that this is about to come full circle – from starting out as a documentary to now being made a film – is rather a delightful idea.
"It's a tremendous show, with an amazing message – to live your life without people judging you. It's a genuinely original story – and rare for something so new to be made into a film," says Shenton.
Nica Burns agrees: "We are all ecstatic! This is very unusual – it's very early in the history of the show for it to be made into a film.
"You look at the likes of Mamma Mia and Les Mis and they had music which had been around for years and was in the public consciousness.
"But this is brand new music from a brand new writing team – so it really is incredible."
The lyrics and music are written by singer-songwriter Tom McRae and The Feeling's Dan Gillespie Sells, who were both new to musical theatre.
Indeed, Gillespie earned himself an Olivier nomination for outstanding achievement in music for his debut as a musical theatre composer and orchestrator.
"It's such a real Brit story," adds Burns. "Right now there's not a lot of good news and this is a really happy, cheerful thing to happen – which reflects the message in the musical itself."
Jamie Campbell says the best part about the whole experience is the number of people the show has helped.
"With the musical, it's touched so many people. I've had hundreds and hundreds of messages from people who it's resonated with. Some people said they had even been suicidal and have told me the show has helped them.
"And now it's going to have a much wider audience, so will hopefully be able to help lots more people. That's just the best thing."
Jamie says he's going to be working as a consultant on the film, adding he is hoping the director will find their way to giving him "a little cameo".
"I couldn't have dreamt this," he says. "I've always had an active imagination, but who'd have thought all of this would happen..?"
Everybody's Talking about Jamie is showing at the Apollo Theatre until April 2019.
Follow us on Facebook, on Twitter @BBCNewsEnts, or on Instagram at bbcnewsents. If you have a story suggestion email entertainment.news@bbc.co.uk.