Evacuations due to eruptions of the Taal volcano in the Philippines affect more than 30,400 people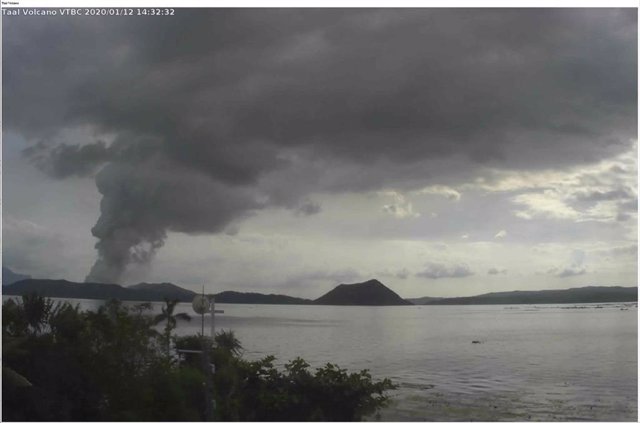 Taal volcano erupting in the Philippines – PHIVOLCS
MADRID, Jan. 14 (EUROPE PRESS) –
Evacuations derived from the eruptions of the Taal Philippine volcano have affected a total of 30,423 people, almost 6,900 families, as reported on Tuesday by the National Council for Disaster Risk Management and Reduction (NDRRMC).
Of these, 4,175 families, some 18,187 people, have found refuge in 118 evacuation centers, according to the local newspaper 'Philippine Star'.
In the province of Batangas, where the Taal volcano is located, 286 volcanic earthquakes have been recorded as of 02.00 (local time) on Tuesday. According to the NDRRMC, 125 of them "have felt" and have oscillated between the magnitudes 1.2 and 4.1.
The authorities in the Philippines have declared on Monday the state of calamity in Batangas due to the severity of gas and ash eruptions, which will allow regional authorities to obtain emergency funds and freeze the prices of commodities.
The Institute of Volcanology and Seismology of the Philippines (Phivolcs) has raised the risk of eruptions of the Taal volcano to level four out of five, which means that it is possible that an explosive eruption is recorded in a matter of hours or days.
The Philippines is in the so-called Ring of Fire, a belt of volcanoes in an area of ​​the Pacific Ocean where earthquakes are often recorded frequently.
Taal, which is one of the most active volcanoes in the Philippines, has erupted more than 30 times in the last five centuries, the last in 1977. In 1911, an eruption of Taal killed 1,500 people and another recorded in 1754 it lasted for several months.