Eurovision: Is Chinese censorship on the rise?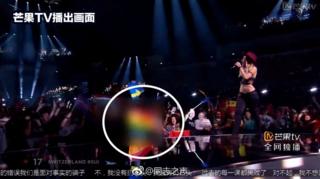 When you're at home watching TV, you wouldn't normally expect a broadcast to suddenly cut out.
But that's exactly what audiences in China have become used to.
During the first semi-final of the 2018 Eurovision Song Contest, Chinese broadcaster Mango TV edited out footage.
It blurred rainbow flags and removed some entries altogether.
Irish singer Ryan O'Shaughnessy's performance was not aired because it featured two male dancers enacting a gay love story.
Albania's entry was also removed because some of its performers had tattoos
The censorship prompted the European Broadcasting Union (EBU) to bar Mango TV from airing the second semi-final and the final.
Social media users said it was a "major step backwards", and criticised the broadcaster for seeming to bow down to the state.
But how does China decide what is censored? And how common are such incidents?
How is Chinese TV regulated?
All TV broadcasters in China are state-owned, heavily regulated and subject to censorship.
Domestic programmes must often submit papers to their local Communist party bureau at least two months in advance for official approval. For foreign TV broadcasts, this process can take even longer.
Beijing says that it will only allow broadcasts that "do not threaten national or political security". That means international channels – such as BBC World News – are only available to view in closed venues, such as luxury hotels.
Even in these places, it is not uncommon for live broadcasts regarded as sensitive to be suddenly censored, leaving viewers to watch a black screen.
What is censored on Chinese TV?
TV censorship broadly falls into two categories: where sensitive images are blurred over, or the whole screen is completely blacked out.
Live broadcasts happen on a slight time delay, and it is fairly common to see blurs over brand logos. But there are many well-documented instances where broadcasters have received a backlash after blurring content – both innocuous and heavily politicised.
In February, Mango TV came under fire for blurring the faces of the Korean members of Sino-Korean boyband EXO. Following tensions with South Korea over its THAAD missile defence system, the government restricted broadcasts of South Korean content.
Yet Chinese fans felt that censoring boyband members' faces was excessive.
Broadcasters have also been criticised many times by anti-establishment media for blurring over Taiwanese flags. This is because Beijing does not recognise Taiwan as a separate country and sees this as a symbol of independence.
Outright blocking of international TV bulletins is common practice in China.
While international channels are available to view, reports that go against the official government line are completely banned.
China has censored numerous TV reports about Hong Kong politics. It blocked all footage of the 2014 Hong Kong protests and mutes pro-independence voices.
It also blocks reports on domestic events that it officially denies or considers sensitive, such as the 1989 Tian'anmen Square massacre, so broadcasts on the 4 June anniversary are blocked every year.
Reality Check: Who loves the UK

China censorship after Xi Jinping presidency extension proposal
Do TV stars self-censor?
Many Chinese stars are concerned that if they do not dress appropriately, they may be taken off the air or their careers may be affected.
In November, singer Katy Perry notably had her Chinese visa rejected for the Victoria's Secret show. Online spectators suspected that this was because she wore a sunflower dress at a 2015 Taiwan concert, which may have been interpreted as a show of support for Taiwanese independence.
Recently, the state has taken steps to crack down on the appearance of tattoos, with broadcast regulators saying that they promote a negative subculture.
Domestic sports stars with tattoos have reportedly been instructed to cover up their arms or legs in TV matches, and actors and performers notably cover up when appearing in interviews.
National paper Global Times says it suspects that the heavily-tattooed appearance of Albanian Eurovision entry, Eugent Bushpepa, is why his segment was removed from the Chinese broadcast.
Is censorship on the rise?
Censorship of broadcast media, but also written publications and online content, is becoming a more common practice in mainland China.
As well as continuing to censor historically contentious material, growing tensions between the mainland and independence factions in Hong Kong and Taiwan mean that Beijing is ramping up regulations to mute any sense of internal dissent.
Regulation has also extended beyond television to digital platforms, owing to people increasingly watching TV over the internet, and even broadcasting their own content. The popularity of live streaming apps unsettles the Chinese government, who want absolute control over anything that is broadcast.
However, social media users have noted their dissatisfaction over a growing list of what they can and cannot watch.
While censorship of violent and pornographic content may seem acceptable, there have been government reprimands over content containing swearing, tattoos and hip-hop.
Earlier in the year Peppa Pig was also subject to censorship after the cartoon character was accused by state media of being used subversively.
Read more from Reality Check
Send us your questions
Follow us on Twitter