Estonia summons the Russian ambassador after denouncing a violation of its airspace
Estonian authorities on Tuesday denounced a violation of Estonian airspace by a Russian helicopter amid the war in Ukraine and summoned the Russian ambassador to the country.
The country's armed forces have said in a statement that a border guard Mi-8 helicopter entered Estonian airspace on June 18 over the Koidula region in the south-east of the country.
The incident lasted about two minutes, the army said, pointing out that the helicopter had not submitted a flight plan and was flying with its transponder turned off, making communication impossible.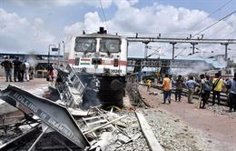 India is canceling over 600 trains amid protests against the army's youth recruitment scheme
In this spirit, the Estonian Foreign Ministry summoned the Russian ambassador to the second violation of the country's airspace this year and handed over a protest note. In the past year, Russia has violated Estonian airspace at least five times.