Esther McVey: Saturday jobs help teenagers prepare for work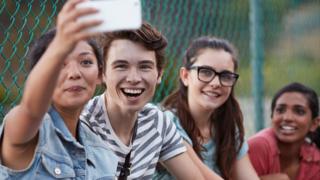 Schoolchildren should get part-time jobs to help prepare them for the work environment, the work and pensions secretary has said.
Esther McVey said she did not think they were "lazy" but there had been a "significant decrease" in the number of teenagers working on a Saturday.
She told the Daily Telegraph there had been a fall of up to 60% in the numbers of young people with weekend jobs.
As a result many lacked the "soft skills" needed for work, she said.
"What you've seen from the 1980s, particularly in this country, is far fewer people doing Saturday jobs and doing jobs after school," she said in an interview with the newspaper.
"It's about people understanding what a boss wants and what you want out of a job."
Fewer teenagers have part-time jobs
My Saturday job started my career
She said the fall in Saturday jobs could partly be as a result of an increased focus on school work.
However, she added that as a consequence many youngsters did not have the skills required for the workplace – such as good timekeeping and the ability to detach from their phones.
The work and pensions secretary said she had worked in her family's business and a bistro when she was still in education.
Research released in December suggested the number of schoolchildren with a part-time job had fallen by a fifth over the previous five years.
The findings came from a Freedom of Information (FOI) request by the BBC to all local authorities across the UK responsible for issuing child employment permits.
Employers need to apply for a licence to hire staff under the age of 16.
Ms McVey's comments follow the release of a report earlier this week from the government's immigration advisers, which said that Britons were seen as less hard-working and less reliable than EU workers.
The interim report is part of a review assessing the impact of Brexit on the UK labour market.
Ms McVey said: "Lets not put ourselves down, we've got a very hard working nation, we've now got record numbers of people in employment and nine out of 10 are UK nationals doing those jobs, that has increased significantly.
"But what we've got to make sure we do for business leaders is to say we've got to support you, we've got to make sure we've got the right people you want to employ going into your business."
Are you a teenager with a part-time job? How do you balance studies and part-time work? Email haveyoursay@bbc.co.uk with your experiences.
You can also contact us in the following ways:
Tweet: @BBC_HaveYourSay
WhatsApp: +44 7555 173285
Text an SMS or MMS to +44 7624 800 100