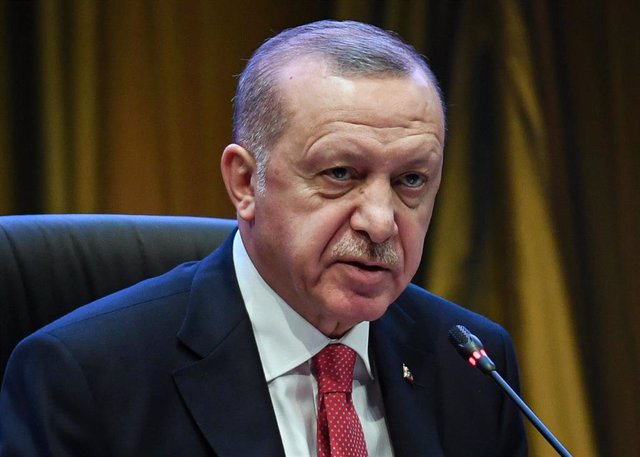 Image of Turkish President Recep Tayyip Erdogan at a summit with Arab countries in Kuala Lumpur. – Iskandar / BERNAMA / dpa
MADRID, Dec. 19 (EUROPE PRESS) –
Turkish President Recep Tayyip Erdogan on Thursday warned of a possible new arrival of refugees because of the military offensive in Idlib, in northwestern Syria, and has asked Muslim-majority countries to support their resettlement plans for refugees in other areas of the Arab country.
Erdogan warns of a possible new arrival of refugees because of the military offensive in northwestern Syria
Turkey currently hosts 3.7 million Syrian refugees, the largest population in the world, and fears a new wave of arrivals from Idlib. This is the last stronghold controlled by rebel forces, the most important of which is the jihadist group Hayat Tahrir al Sham (HTS), and where about three million people live.
Syrian and Russian forces launch frequent bombings in Idlib, while Syrian President Bashar al Assad has said he will continue to do so, which could push more people to the border with Turkey. Erdogan has assured that 50,000 more people could be going to the country, as reported by the newspaper 'Hürriyet'.
"We already have four million people, now another 50,000 are coming, and this could increase," Erdogan said at a summit of Muslim countries in Malaysia. However, it has not clarified whether the 50,000 Syrians have come to enter the country, which has built a 911-kilometer wall on its southern border after the start of the conflict in Syria eight years ago.
The Turkish leader seeks international support for his plans to locate one million Syrians in a region northeast of the country, which took the Turkish forces and their Syrian rebel allies from the Kurdish militia Popular Protection Units (YPG).
Ankara has so far received little support in this proposal, so Erdogan has argued that the world powers are more concerned with sending weapons to Syria than supporting their plans to establish a 'safe zone'.
"Is the Muslim world that poor? Why don't they support this?" He asked. "Even just giving alms, there would be no poor. They don't give support when we ask them to form a 'safe zone', but when it comes to weapons, weapons arrive," he stressed.
On this, he stressed that the "imperialist powers" have sent about 33,000 trucks loaded with ammunition and weapons.
Erdogan has also expressed that Turkey has dedicated 40,000 million dollars (more than 35,000 million euros) to Syrian refugees. "There is no serious support from the United Nations High Commissioner for Refugees, nor does the European Union keep its promise. No one is keeping his word," he said.
In this regard, he has argued that Turkey promised to build settlements for its "refugee brothers and sisters" to live in their country.