Erdogan says one of Al Baghdadi's children is in Turkey's custody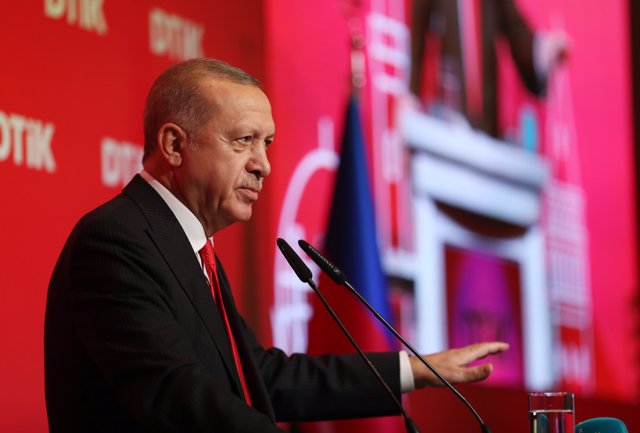 Recep Tayyip Erdogan – Mustafa Kamaci / Turkish Presidenc / DPA
MADRID, Nov. 7 (EUROPE PRESS) –
The president of Turkey, Recep Tayyip Erdogan, announced Thursday that the Turkish authorities have one of the sons of the deceased leader of the jihadist group Islamic State Abú Bakr al Baghdadi in custody.
The president has stressed that DNA tests carried out on several detainees have shown that one of them is the son of Al Baghdadi, without giving more details about it, as reported by the Turkish newspaper 'Daily Sabah'.
He also stressed that "the interrogation procedures continue with determination" and added that the relatives of Al Baghdadi detained will be sent to repatriation centers.
Erdogan himself announced on Wednesday the capture by Turkey of a wife, sister and brother-in-law of the deceased leader of the Islamic State.
Al Baghdadi committed suicide with a bomb vest on October 26 when he was cornered by US special forces during an assault on the house in which he was hiding in the town of Barisha, in the Syrian province of Idlib (northwest), about kilometers from the Turkish border.
Turkey said Tuesday that it had also arrested one of the terrorist leader's sisters, Rasmiya Awad, during a raid in the Syrian town of Azaz, as well as her husband, daughter-in-law and five children.
On the other hand, the Turkish authorities have arrested 17 foreign citizens suspected of maintaining ties with the Islamic State on Thursday, within the framework of an operation in the capital, Ankara, as collected by the Turkish state news agency, Anatolia.
The Turkish authorities, which declared the organization as a terrorist group in 2013, have carried out hundreds of operations against the Islamic State in recent years.
Since then, more than 300 people have lost their lives and nearly 200 have been injured in Turkey in attacks claimed by the jihadist group.