Erdogan says Kurdish militiamen have not withdrawn from the "safe zone" in Syria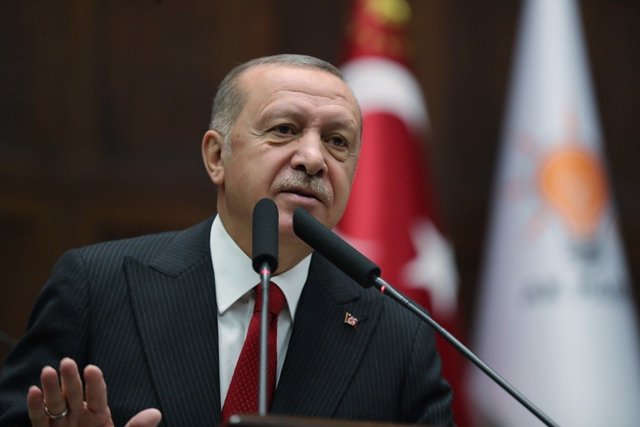 Recep Tayyip Erdogan – PRESIDENCY OF TURKEY
MADRID, Nov. 5 (EUROPE PRESS) –
The president of Turkey, Recep Tayyip Erdogan, has assured that the Kurds of the Kurdish Popular Protection Units (YPG) have not withdrawn from the "safe zone" agreed with Russia in the northeastern area of ​​Syria, despite the fact that both Russian authorities like the US have taken this withdrawal for granted.
Erdogan, who spoke on Tuesday before deputies of his party (AKP), said that there are still members of the YPG in Tel Rifaat, Manbij and east of Ras al Ain, one of Turkey's latest objectives in the framework of the Operation Manantial de Paz, started on October 9, according to Turkish media.
The president has warned that Turkey will respect the commitments acquired as long as the United States and Russia also fulfill theirs, which happens to convince their military allies so that tensions can be reduced in areas of Syria near the Turkish border.
The Turkish Ministry of Defense confirmed on Tuesday the start of the second joint patrols with Russia, another of the pillars of the agreement sealed by Erdogan and his Russian counterpart, Vladimir Putin, on October 22. Ankara has explained that the patrol takes place in the Kobani area.
Erdogan has assured that the United States continues to collaborate with the YPGs despite the agreements and has suggested that it is still unclear if it will be seen this month with US President Donald Trump, as planned. In this regard, he said he will decide after a telephone conversation with Trump.
The operation has translated internally in Turkey into an increase in the level of support for Erdogan, according to a survey by the Metropoll firm collected by Reuters. The president's approval rate has grown 3.7 points in October, up to 48 percent, the highest level since the June 2018 presidential election.
On the other hand, disapproval falls 9.3 points, to 33.7 percent, the lowest since the failed coup in July 2016, which Ankara attributes to a network led by exiled cleric Fethulá Gulen. Erdogan has referred to Gulen on Tuesday, to remember that "the leader of the Islamic State was as important for Turkey as the United States," Abu Bakr al Baghdadi.