Erdogan rules out negotiating with the Syrian Kurds and says Turkey has never committed "a massacre of civilians"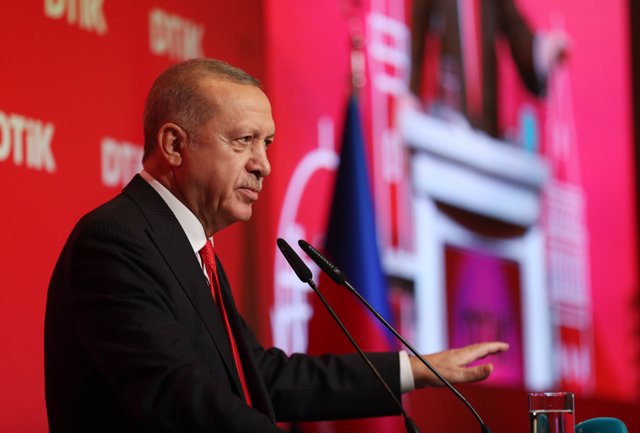 Recep Tayyip Erdogan – Mustafa Kamaci / Turkish Presidenc / DPA
The Turkish president calls on Kurdish militias to lay down their weapons today
MADRID, Oct. 16 (EUROPE PRESS) –
Turkish President Recep Tayyip Erdogan has defended on Wednesday the military offensive launched by his country just a week ago in northeastern Syria and has made it clear that he has no intention of negotiating with Syrian Kurdish militias, which he has branded of "terrorists."
"Turkey is not fighting the Syrians, it is fighting with the Syrians against the oppressors," Erdogan defended during a meeting with the parliamentarians of his Justice and Development Party (AKP) in Ankara, rejecting offers to "mediate" in the resolution of the conflict
"The Republic of Turkey has never in its history sat at the table with terrorist groups. We are not looking for a mediator for that," he said, according to the official Anatolia news agency.
The aim of the Turkish offensive in northeastern Syria is the Syrian Kurdish militias, the YPGs, which Turkey links with the Kurdistan Workers Party (PKK), considered a terrorist organization by Ankara, the EU and the United States.
In this regard, Erdogan has given an ultimatum to the Syrian Kurdish militias: "For tonight, all terrorists must lay down their weapons, destroy their traps and leave the safe zone we have determined."
Also, the Turkish president has made it clear that Turkey will not reverse its operation, as many countries have asked. "A few Western leaders have been calling us every day to urge us to stop the operation 'Peace Spring'," he said.
"But none – neither the Western countries nor the Arab League – have called us to condolences for our 20 dead citizens and the 170 who have been injured" in the attacks from across the border, has criticized.
On the other hand, Erdogan has argued that "Turkey has never committed any massacre of civilians in its history and never will." "Our religion and culture will never allow us to do it," he said.
"If you are looking for massacres of civilians look at Afghanistan, the state of Rajine in Burma, Nagorno Karabakh and Bosnia" where Muslims were massacred at the end of the last century and in this, the president said, according to Anatolia.
"If you want to see massacres of civilians, look at Cyprus before the Turkish intervention (in 1974), look at Palestine right in front of your nose, where Muslims are being deliberately killed in the streets," he added.