Erdogan meets with Hamas leader to discuss measures to reject the US peace plan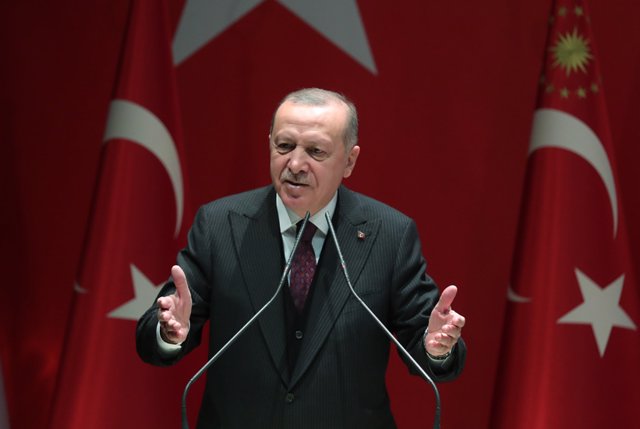 The President of Turkey, Recep Tayyip Erdogan – Mustafa Kamaci / Turksih Presidenc / DPA
ISTANBUL, 1 Feb. (DPA / EP) –
Turkish President Recep Tayyip Erdogan will meet this Saturday in Istanbul with the leader of the Hamas Islamist movement, Ismail Haniyeh, to discuss a response against the effect of the announcement of the "agreement of the century" by the United States for the Middle East, which he has told with the complete rejection of the Palestinians.
The two will meet at 4pm – Spanish time – in the Vahdettin Pavilion of the Turkish city, according to a statement from the Presidency of Turkey, which does not provide more details
In a phone call with Palestinian President Mahmoud Abbas on Friday, Erdogan reiterated Turkey's support for "the Palestinian cause," according to his office as well.
Erdogan, a staunch critic of Israel's policy towards the Palestinians, lashed out against the Arab countries that backed the plan on Friday, referring to him as "treacherous," and also criticized the Gulf countries, including Saudi Arabia and the United Arab Emirates. , who have asked the Israelis and Palestinians to discuss the plan in direct negotiations.
The president of the United States, Donald Trump, defended, in an appearance in the White House next to the prime minister of Israel, Benjamin Netanyahu, that is a "realistic" solution to guarantee the peaceful coexistence of two states and urged the Palestinians to accept this "opportunity", which "could be the last".
In response, the president of the Palestinian Authority, Mahmoud Abbas, described the proposal as "the slap of the century" and stressed that it is destined to end "in the garbage dump of History."
For his part, Netanyahu said Wednesday that the proposal "is the best agreement" that the Palestinians can achieve, who have asked them to accept the 'agreement of the century'.