Erdogan asks the US to deliver the SDS commander to Turkey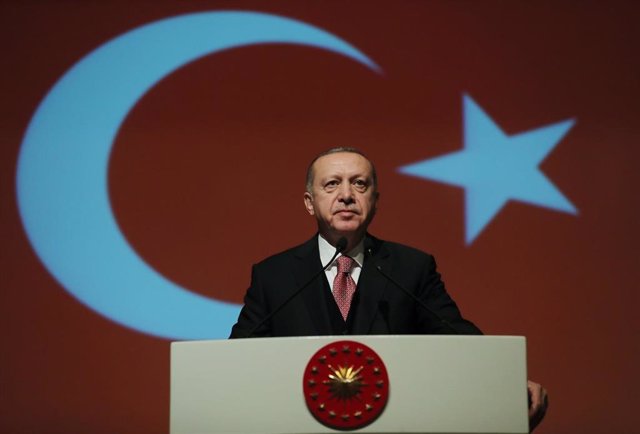 Recep Tayyip Erdogan – TURKISH PRESIDENCY / DPA – Archive
MADRID, Oct. 24 (EUROPE PRESS) –
Turkey's President Recep Tayyip Erdogan has called on the United States on Thursday to hand over the country to the commander of the Syrian Democratic Forces (SDS), Mazlum Kobani, and has announced that Ankara will establish an observation post in Manbij.
In an interview with the Turkish television network TRT, the president said that Kobani weighs a 'red alert' from Interpol and has stressed that Washington should deliver to the authorities.
"The Kurds are our brothers, we have no problems with them, we fight only against terrorists," he said, before re-defending his decision on October 9 to launch the military offensive against Kurdish forces in Syria.
On the other hand, it has confirmed that the agreement reached this week with Russia includes the creation of an observation post in Manbij. "We have already established a ten-kilometer deep peace corridor in Syria between Tal Abyad and Jarabulus," he said.
"We will be at least ten kilometers inside Syria, which will facilitate our intervention against any possible terrorist act by the YPG," he said, according to the daily newspaper 'Daily Sabah'.
The YPG (Popular Protection Units), are a Kurdish militia that is the main component of the SDS, the main ally of the international coalition led by the United States against the jihadist group Islamic State.
Kobani himself said Wednesday that US President Donald Trump has promised to keep his "long-term support" to the SDS.
"President Trump has promised to maintain the alliance with the SDS and long-term support in several areas," he said, following a telephone conversation that was confirmed by the US president himself.
He also indicated that the ceasefire reached in the framework of the offensive initiated on October 9 by the Turkish Army "would not have been possible without their great efforts."
"We thank President Trump for his tireless efforts, which halted the brutal attack by Turkey and jihadist groups against our people," he said.
Kobani's statement was published shortly after Trump appeared before the press to announce that Turkey has communicated that the ceasefire will be "permanent," while talking about a "breakthrough to achieve a better future" for the country. Arabic and the region.
The US president described the SDS commander as "a wonderful man" and stressed that Kobani "is extremely grateful for all that the United States has done."
"The US forces defeated one hundred percent of the Islamic State caliphate," he reiterated, before thanking the SDS for "their sacrifices and efforts." "They have been incredible," he said.
Turkey began on October 9 the 'Operation Peace Spring', days after Trump took a 180 degree turn to the Washington alliance with the SDS, until then a key ally in the fight against the Islamic State, and withdrew his troops from the area, giving 'green light' to Turkey for its offensive.
Since then, most countries of the international community have charged against Ankara and have warned that the operation could have a negative impact against the fight against the jihadist group.