England's batting: Why is it so bad and what can they do about it?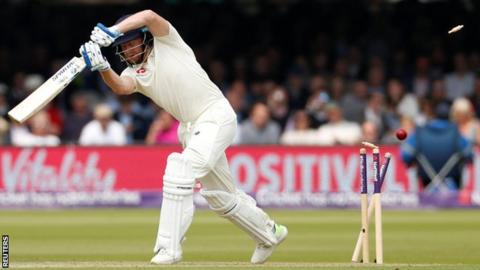 The statistics don't lie.
England have not won any of their past eight Tests and the nine-wicket defeat by Pakistan at Lord's was the first time they had lost in May since 1921.
They cannot blame luck or the conditions. They won the toss and the greenish pitch was ideal for England's excellent seam and swing attack, although for some reason Joe Root elected to give Pakistan the first bowl on it under classic overcast skies.
But that was not the reason England were so heavily beaten. They were utterly outplayed in all departments by a Pakistan side featuring only four players who had previous experience of a Test in England.
Root's team were defeated – as they have been 13 times in the past 22 Tests – because they cannot bat.
In that time they have been dismissed 24 times for less than 300, the bare minimum for a total in five-day cricket.
Why is the batting so bad and how can they fix it?
Click to see content: England_Totals_since_2017
What exactly is the problem?
There is no permanence about England batsmen.
Apart from Alastair Cook, no-one is prepared to knuckle down and grind out runs in an unattractive but effective way.
When I told Cook he looked good making 70 in England's first innings, he regarded it almost as an insult. He does not want to be pleasing on the eye; he wants to make monumental scores.
Cook is the only batsman happy with a low-risk strategy. He chips away at the bowling in small chunks rather trying to take great whopping slices off it. He makes runs because he knows it his duty to do so. He is not out there for fun.
Most modern English batsmen instinctively like to dominate – this is what they have been conditioned to do. It is more enjoyable and more entertaining, but it also much riskier.
England have given debuts to 12 batsmen since 2014. Their combined average is 26. Contributions like that are not going to win Test matches.
Click to see content: England_debutants_batting_averages
Where have the hundreds gone?
It is ironic that the ECB's shiny new tournament is called 'the Hundred' because it is individual hundreds that England are lacking.
England managed only three centuries in last winter's five-match Ashes series. The Australians made 10. England scored only five in seven Tests against South Africa and West Indies last summer.
The trend is evident at county level too: no batsman has scored 10 hundreds in a season – or 2,000 runs – since Mark Ramprakash in 2007.
Cook, England's all-time leading run-scorer, has compiled 104 half-centuries and 61 hundreds in first-class cricket, a conversion rate of 37% once he has reached 50.
However, of his top-order colleagues in the first Test, Mark Stoneman's conversion rate is 30%, Dawid Malan and Jonny Bairstow's 29% and Ben Stokes' 30%. Even Joe Root's, England's best batsman, is only 29%.
It is a problem with technique?
The current generation of batsmen, many of whom are reared on limited-overs cricket, like to go 'at' the ball without properly moving their feet towards it.
They will try to drive balls that are not half-volleys, backing their eye – and the non-swinging white ball – to hit it cleanly.
That is not so easy against high-class international bowlers armed with the red Duke ball, which can move prodigiously in the air and off the pitch.
In the last Test for example, Jonny Bairstow was bowled in both innings. Each time the ball moved late in the air. But if he had been playing defensively rather than attempting a forcing shot, he would have had more chance of survival.
The one-day generation have developed lazy habits. They rarely get properly forward or back with their feet, adopting what is known in the trade as a 'half-cock' position. This makes them more susceptible to the fullish delivery that seams or swings late.
The side-on image of Stoneman being bowled in England's first innings illustrates the point. His weight is not fully forward, his right knee is straight rather than bent and he is pushing out in front – leaving a gap between bat and pad which the ball sneaked through.
Techniques like this are fallible to skilful full-length bowling from craftsmen who are able to make the ball deviate off the seam.
South Africa's Vernon Philander exploited this flaw last year and Pakistan's Mohammed Abbas is the same type of bowler.
What else are England doing wrong?
The deeper issue is a mental one. Dogged occupation of the crease, eschewing high-risk shots, purely staying in when the bowling is very challenging or the conditions awkward – these are not skills ingrained in English players.
Root's Test hundreds usually last four hours, Cook's typically take six.
But watch the England players practise in the nets before a game and it will not be long before they attempt attacking shots.
Batsmen generally bat for 30 minutes, facing the England pace attack or the local academy seamers or spinners.
There will be the odd 15-minute session when they try to bat roughly at the tempo of a Test, but the net environment is not suitable to rehearse lengthy periods of abstinence.
Coach Trevor Bayliss, who said after the first Test that "you almost throw your hands up sometimes" at England's repeated collapses, takes a back seat during practice, standing at the back observing.
Occasionally his assistants Mark Ramprakash or Paul Farbrace will make a comment to a player, but they keep them to a minimum.
Some players are cross when they are dismissed in the nets – Root, for example – but others do not seem to mind so much.
One-day cricket and the 'flat-pack' mentality
Chopping and changing formats regularly during the season also makes it hard for batsmen to acquire the necessary concentration levels required for Test cricket.
The recalled Keaton Jennings comes in for the second Test on the back of five 50-over matches for Lancashire. Despite making two championship centuries this season, he will not have played a four-day innings for almost three weeks.
You get out of the habit of building an innings brick by brick. You want to put the whole edifice up in one go. It is what you might call the 'flat-pack' mentality.
Large chunks of the season are devoted to 50-over and 20-over cricket.
They require a more positive mindset and technique is less important because the white ball does not swing or deviate as much as the red.
A quick 40 can really help the team in limited-overs matches, but in Test and championship cricket that is less valuable.
What can England do to fix the problem?
It is possible to adapt your method. Against Abbas, who bowls at only 80mph but took eight wickets in the first Test, batsmen could bat out of their crease, or ensure they take a big stride to smother the movement. Stokes did this successfully against Philander last summer.
Vitally, England must try something at Headingley. It is not good enough to say 'that is the way I play'.
They have to bat smarter. They have to think more clearly about how the bowler is trying to get him out and make it a number one priority to keep their wicket intact.
As much as they fancy driving the fourth ball they face to the boundary, they should resist it.
Expansive driving should be banned until after lunch unless its a very full (and not wide) half-volley. Pushes for two or three should suffice until the ball is older and less likely to swing.
Any batsman bowled between bat and pad should be made to do community service.
And what about county level? Truer pitches, more four-day cricket in mid-summer and bonus points for totals of 500 rather than 400 should help batsmen learn how to bat long.
The social media generation
We all know people's concentration spans are shorter than they used to be.
Sport reflects society. Batsmen are just not willing to endure slow, almost soporific periods of play when nothing happens. They constantly want to make a statement.
It is the social media generation, constantly flicking through the different platforms on their phone for instant gratification.
And you know the only England player not on social media? Alastair Cook.