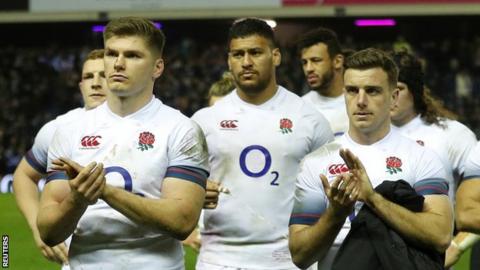 England head coach Eddie Jones will respond to his side's poor Six Nations showing by bringing in an attack coach for the upcoming tour of South Africa.
Jones has been without a backs specialist since Rory Teague left the set-up to join Bordeaux last May.
England finished fifth in the 2018 Six Nations, their worst performance in 31 years.
England v South Africa: Eddie Jones to add attack coach for upcoming tour
"Certainly we need to bring in another coach to help with the attack," Jones said.
England face the Barbarians in a non-cap match at the end of the month, before the three-Test series starts in Johannesburg on 9 June, with Jones confirming his squad on Thursday.
He told BBC Sport: "We are looking to take another coach on tour, and I've got the right person for this tour.
"When the time is right we will announce it. It's certainly someone I have worked with before."
Former Australia international Glen Ella has assisted Jones on a handful of occasions over the past two years, most notably on the summer tour of 2016, when England defeated the Wallabies 3-0.
Former Leicester, Bath and England utility back Sam Vesty has also been involved, helping England to a series victory in Argentina in 2017, and could be available on a short-term basis before joining the Northampton Saints staff under Chris Boyd.
However, the coach Jones appoints for the South Africa tour is unlikely to join his backroom team on a permanent basis at this stage.
"It has always been the case that we are looking for the right coach and when I can find the right coach who is available I will bring him on to the staff," he added.
'Hartley involved in planning'
Jones will also need to appoint a new captain for the trip, with regular skipper Dylan Hartley ruled out through concussion.
But the Northampton hooker has been involved in the planning of the summer, despite his unavailability.
"It's obviously disappointing for Dylan, he has a grand record as captain of England, an 86% winning record, there is no England captain near that," Jones said.
"But he's been involved in the planning of the tour.
"Nature runs it course with head injuries and you have to be guided by the medical staff. But he has the motivation and the intention to come back so there's no reason why he can't."
Jones says vice-captain Owen Farrell "did well in the Six Nations" when he deputised for Hartley, but there are "a couple of other options."
'England can make history'
England are likely to face a resurgent South Africa, with their new head coach Rassie Erasmus set to pick a strong side in a bid to turn around the Springboks' fortunes, having fallen to sixth in the world rankings.
Springbok great Bryan Habana told the BBC earlier this month that Erasmus is likely to select some overseas-based players against England, potentially relaxing a policy introduced in 2016 that ruled out those not playing in South Africa who had won fewer than 30 caps.
"We need to take some experienced players, but certainly there will be opportunities for young players and fringe players," said Jones.
"It's always been a big tour. England have never won in South Africa, they have a 23% winning record in South Africa.
"So we can do something no other English side has ever done."