England v Pakistan: Who will line up for hosts in first Test?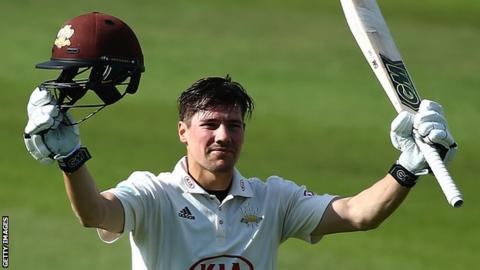 We're only a week into May, but there is just one more round of County Championship fixtures before England's first Test against Pakistan.
Last week, we cast an eye over the early-season performances of those hoping – or failing – to make the squad for Lord's. This week, the sweltering weather brought much-needed runs for would-be international batsmen.
New national selector Ed Smith has started to appear at championship matches up and down the country, but it could be that next Tuesday's squad announcement will come too quickly for sweeping changes.
With one more chance to impress, how are England's definites, maybes and unlikelies faring?
The definites
England skipper Joe Root made his first championship appearance of the season in Yorkshire's remarkable victory over Essex.
Out first ball as the Tykes were bowled out for 50 in the first innings, he hit 35 in the second.
Of more intrigue in that Yorkshire fightback was the decision to promote Jonny Bairstow to open in the second innings, the wicketkeeper responding with a 44-ball half-century.
Was that merely to change the tempo of the match or something that could be repeated? Bairstow is seen by some as a left-field answer to England's opening problems.
Alastair Cook managed nought and 26 for Essex in the same match, but the former England skipper did register 84 against Hampshire the previous week.
Dawid Malan, one of the few success stories of England's winter trips to Australia and New Zealand, piled on a ton in his second game of the season for Middlesex at Sussex.
Stuart Broad continued the solid form that began in New Zealand, taking six wickets as Division One leaders Nottinghamshire beat Hampshire, but new-ball partner James Anderson mustered only one for Lancashire against Somerset on an Old Trafford pitch that resembled a slab of tarmac. Much more shocking was the state of Anderson's newly-dyed hair.
Ben Stokes, the only member of England's Indian Premier League (IPL) contingent who will definitely play in the first Test, has seen his Rajasthan Royals side slip to the bottom of the table. The all-rounder has scored only 13 runs in his past three matches and has combined bowling figures of 1-70.
Looking over their shoulder
Like Stokes, Chris Woakes, Mark Wood and Moeen Ali are at the IPL, but suffering from a collective lack of cricket.
Of the three, only Wood finished the winter in the Test XI, but it is he who has now been without competitive action the longest. His only appearance for Chennai Super Kings came on 7 April, prompting him to return to England early in a bid to boost his Test chances.
Woakes is now more than two weeks without a game for Royal Challengers Bangalore. Moeen at least made his debut for RCB on Sunday.
Opener Mark Stoneman and number three James Vince made half-centuries in England's final Test of the winter, but the feeling is they remain at risk if others pile on the runs in the Championship.
To that end, it has been a good first month for both men, purely because of the lack of challengers. Only one batsman in either tier of the championship has made more than one century, and that is Australia's Matt Renshaw.
That tide, though, could be about to turn, with a number of hopefuls getting runs over the weekend (more on those in a moment). With Stoneman mustering 28 and 20 for Surrey against Worcestershire and Vince registering a pair of fives for Hampshire at Notts, they have only one half-century between them in 13 innings.
Somerset left-arm spinner Jack Leach ended the winter with a Test debut, but has not yet hit the heights that have made him the most prolific spinner in Division One over the past two seasons. His three wickets this season have cost more than 50 each.
On the radar
Whereas Stoneman and Vince were previously devoid of challengers, the weekend sunshine kicked the seasons of some batsmen into life.
While Test call-ups will not be handed out on the back of one good knock, further performances in the next round of fixtures from Rory Burns, Keaton Jennings, Nick Gubbins and Joe Clarke may cause serious selection debate.
Burns, who racked up 1,000 runs last season, piled on 193 for Surrey; Jennings made his first big score for new county Lancashire with 109 against Somerset; and Gubbins returned from injury to make a century for Middlesex in his first match of the season. All three are openers.
In the same game where Burns did his damage, Worcestershire middle-order batsman Clarke, who toured with England Lions in the winter, compiled 157.
Clearly, there were runs to be had at The Oval, so perhaps of greater note was the career-best 6-105 taken by Surrey off-spinner Amar Virdi.
The 19-year-old, who as a youngster received private coaching from former Pakistan spinner and England spin coach Saqlain Mushtaq, now has 14 wickets for the season. Still, it would be quite un-English to pick a player who has only six first-class appearances to his name.
England do not usually want for seam-bowling options in the early season and the two leading wicket-takers in Division One are seamers.
Jake Ball has bounced back from a disappointing Ashes tour to claim 25, while Yorkshire's Ben Coad – a success story of last season – has 23.
Coad, though, will not provide a much-needed injection of pace to the England attack. Keeper Bairstow spent time up to the stumps when he was bowling against Essex at Chelmsford.
Missing out
The curious case of Haseeb Hameed is surely the biggest cause of frustration to England fans over the past 18 months.
Every inch a star as a 19-year-old on his debut tour of India at the end of 2016, his inability to buy a run for Lancashire since saw him dropped for the draw with Somerset.
Talk of him playing Test cricket must surely be parked for the foreseeable future.
Another Lancastrian struggling is Liam Livingstone. Reserve batsman on England's tour of New Zealand, his highest score in six knocks since taking over as county skipper is 48.