Emily Maitlis fears stalker will never stop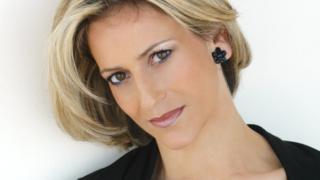 TV presenter Emily Maitlis says she fears her stalker will never stop harassing her.
Two days after a former friend was jailed for breaching a restraining order, the Newsnight presenter compared living with two decades of harassment to having a chronic illness.
Speaking to BBC Radio 5 live's Emma Barnett Show, she said it had had a devastating impact on her family.
"You turn into this person who shouts at your kids for the wrong thing."
She also described her frustrations with the legal system and called for a new approach to treating stalkers.
On Tuesday, Edward Vines was jailed for 45 months for breaching a restraining order, having first been convicted of harassing Maitlis in 2002.
'Jumpy' and 'stressful'
Maitlis said in the radio interview, to be broadcast on the Emma Barnett Show from 10:00 GMT, that the thought of her stalker was ever-present.
"It just makes you jumpy – and that's stressful and it's tiring and it's time-consuming.
"Your head is somewhere else and you're having to think about things that are just ludicrous, like 'how do you get in and out of your front door' and 'how they are getting back from school?'
"It's not that you think everyone is out to kill you. You recognise it as a paranoia. But it doesn't make it any easier.
"This has literally been going on for 20 years. It feels like sort of a chronic illness.
"It's not that I ever believe it will stop or he will stop, or the system will manage to prevent it properly."
The journalist first met Vines, from Oxford, when they were students at Cambridge University.
He was issued with an indefinite restraining order in 2009, which he was convicted of twice breaching last year.
Maitlis said: "Whatever treatment he's had isn't working as a cure and he is obviously also a victim in this.
"He is unwell and has wasted half his life. Stalking is a weirdo glamorised term for what is essentially mental ill-health and so somewhere along the lines we have to change the mechanism."
She added: "It's weird for the kids to have to see this stuff. They know as much as they want, they can read and they are online. My job is just to keep things really normal at home.
"I remember the first time the police came round and they pulled my husband aside and said 'You're the one we're worried about here'.
"Apparently there is a very natural course of behaviour, that the husband just goes out and decks the guy.
"Then of course you're in the worst possible position because your own husband is serving time instead of the perpetrator."
The government has apologised to Maitlis after her stalker was able to write to her from prison.
Vines wrote to her while in HMP Bullingdon and again while living in a bail hostel.
Maitlis described this as "bizarre beyond belief", adding: "It was something that should never have got through, but it is extraordinary to think that a stalker behind bars for corresponding can then carry on corresponding."
She said that on an individual basis, authorities and police had been "really caring and helpful" but there was a lack of co-ordination when dealing with victims.
"You give a statement and you give an impact statement; you've got a prosecution and you've got a custodial sentence, and it's been meted out – and then 12 months later it happens all over again.
"By that time it's a different policeman or a different investigator or people have changed jobs and somebody turns up at your house and says 'Right so what's all this about?' or 'Where did it all begin?', and for somebody who's been through this to have to relive that, it's punishing and it's humiliating."
The full interview with Emily Maitlis will be on the Emma Barnett Show on BBC 5 live from 10:00 BST on Thursday 18th January.