Early May Bank Holiday Monday heat record broken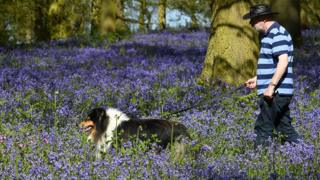 Britain is enjoying record-breaking sunshine, with highs of 24.2C reported in Herstmonceux in East Sussex by the Met Office.
Today marks the hottest May Bank holiday since the long weekend was introduced in 1978.
The South East, the Midlands and East Anglia will be the warmest spots.
But the Met Office's Charlie Powell said a predicted peak of 28C would be "the exception rather than the rule".
"I think for most places, if you take the bulk of England and Wales for example, we're looking at somewhere around the low to mid 20s mark," said Mr Powell.
The average high for the May Bank Holiday in London is about 18C.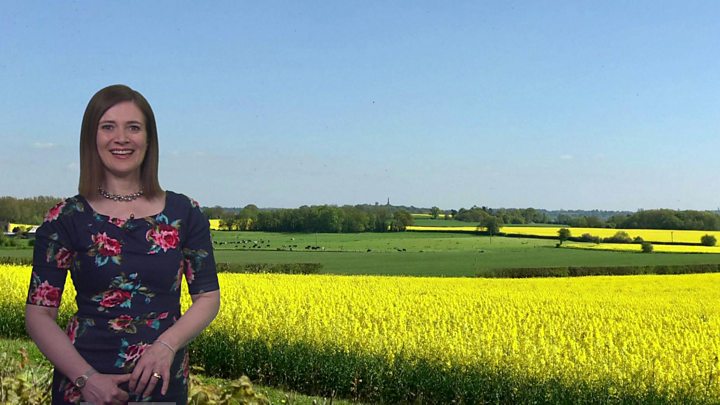 Much of the UK has been blessed with blue skies and sunshine across the three-day holiday weekend, leading to busy roads and overcrowded trains as people flock to the coast.
Temperatures peaked on Sunday at 26C in Northolt in north-west London.
Meanwhile, Wales saw a top temperature of 23.6C in Llysdinam, Powys, and in Scotland the mercury reached 21.8C in Edinburgh.
In Northern Ireland, the highest recorded was 20.8C in Katesbridge.
How to stay safe in the sun
According to Dr Farrah Sheikh, absorbing enough sun is important, as it provides essential Vitamin D. However, it is also important that we are sun safe. She suggests the following:
Stay out of the sun when it is at its hottest (between 11:00 and 15:00 BST)
Try to cover up as much as possible – wear a hat
Apply plenty of sunscreen, particularly with children as their skin is a lot more sensitive. Re-apply sunscreen every one to two hours
Drink lots of fluids
May Bank Holiday Monday records
24.2C
New record temperature: 7 May 2018
23.6C
Previous record: 3 May 1999
-5.9C Coldest: 7 May 2012

63mm Wettest: 7 May 1979

15.1 hours Sunniest: 7 May 2001
Source: Met Office
PA
How to keep your pet safe
Vet Dr Simon Constable says sun safety is as important for pets, and suggests the following key pointers:
Use non-toxic pet sunscreen, particularly on pale-coloured pets, such as horses and dogs
Give animals plenty of water to keep them hydrated – check their water is full all the time
Consider buying booties to keep pets' paws and feet safe from getting burned on hot sand or hot pavements
Let them have a swim if possible
If travelling in a car with animals, stop regularly and give them frequent drinks of water
Never leave pets in a car
How are you enjoying the sunny weather? Share your pictures and video by emailing haveyoursay@bbc.co.uk.
Please include a contact number if you are willing to speak to a BBC journalist. You can also contact us in the following ways: