Dundalk stabbing suspect had 'two knives'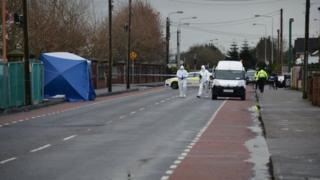 A man has died and two others have been injured in a stabbing incident in County Louth on Wednesday.
It happened at Avenue Road, Dundalk, shortly before 09:00 local time.
The victim, who is from Japan, was stabbed to death in the street and two other people were attacked with an iron bar.
RTÉ reports that Gardaí (Irish police) arrested an 18-year-old man who is from Egypt. He is being held on suspicion of murder.
Gardaí are trying to establish a motive for the attack, including the possibility that it was planned.
Three scenes at Avenue Road, Inner Relief Road, and Seatown have been cordoned off.