Duke says he will only have it. dialogue with the ELN if it ceases its "criminal actions"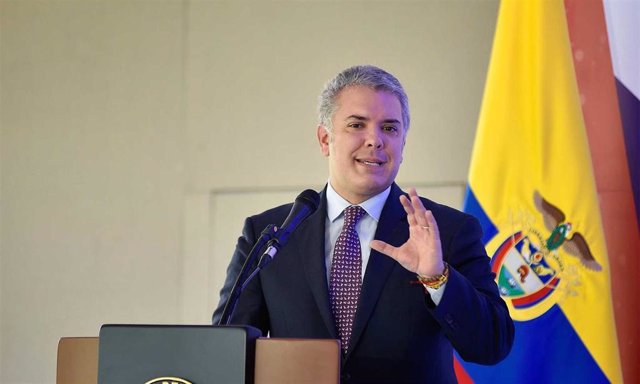 The President of Colombia, Iván Duque – DAVID ROMO – PRESIDENCIA COLOMBIA – Archive
BOGOTÁ, 3 Dec. –
The president of Colombia, Iván Duque, announced Monday that if the National Liberation Army (ELN) intends some kind of dialogue "it has to free all the kidnapped and put an end to the criminal actions", in relation to the petition of the unemployment organizers who advocated a meeting between the Government and the paramilitary organization to move towards the end of the violence that the country has been experiencing for several decades.
"I have been clear: if the ELN has a peace commitment with Colombia, it must free all the hostages and put an end to the criminal actions; otherwise, we end up validating the violence," said Duque.
"Whoever agrees to talk or negotiate in the middle of the crime, is validating it as a mechanism of pressure on the State," said Duque, who also said it would be "hypocrisy" for him to talk about peace and allow "criminals to attack the people Colombian ", as collected by the local newspaper 'El Espectador'.
Last week, the promoters of the national strike and some political forces requested the president of Colombia, among other things, to fully comply with the agreement reached with the former guerrilla of the Revolutionary Armed Forces of Colombia (FARC) and to "explore new possibilities to resume dialogues with the ELN.
However, Duque recalled that after the previous Administration of Juan Manuel Santos, there were "more than 400 attacks, more than 100 murders and a dozen kidnappings", once the possibility of a dialogue with the ELN was evaluated. In that sense, he also had words of remembrance for the 23 police officers killed at the Cadet School in Santander last January.
"What we saw in January hurt in my soul. That was not an attack on a military garrison, that was a car bomb in an educational center in a place where defenseless boys were preparing to serve the country as police and vilely they were killed, "denounced the Colombian president.
After that attack, Duque decided to cancel the negotiating table that the Government planned to organize in Havana with the guerrilla organization of the extreme right, as well as the suspension of the arrest warrants of the 10 paramilitaries that had been presented to be part of that dialogue .