Duke of Cambridge joins DIY SOS Grenfell crew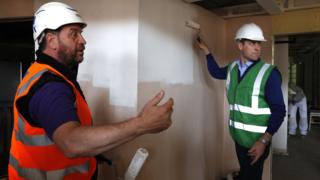 Prince William has praised the spirit of the Grenfell Tower community as he joined the DIY SOS team to rebuild a boxing gym destroyed in the fire.
He has been helping to create a new home for the Dale Youth Boxing Academy and a community hub near the site of the blaze in which 71 people died.
The Duke of Cambridge met volunteers builders working on the project who had been affected by last year's tragedy.
He said the community spirit he had seen made him "very proud".
"Grenfell and Manchester have been competing as to who has the most community spirit, because the terror attack in Manchester, I've never known anything like it, they were amazing, they came together," he said.
"I saw the same thing with Grenfell.
"It makes you very proud that through something so tragic and traumatic people come together like they do, and try and help each other out."
The gym has turned out stars including WBA super middleweight champion George Groves and Olympic gold medallist James DeGale.
The academy, which was housed at the foot of Grenfell Tower in west London, currently trains at a makeshift facility in a nearby car park.
The show's presenter Nick Knowles said the project was one of DIY SOS's "morally most important" to date.
The programme plans to have parts of the project "built inside a year".
Volunteer Jason Garcia Urbano, whose 12-year-old cousin Jessica Urbano Ramirez was killed in the fire, said: "I think it's great, in two terrible circumstances people are coming together to help one another.
"For me, one year on, people are still thinking about how they can support this community that has been severely damaged by what's happened.
"I'm all for it, that's why I wanted to get involved as soon as I found out."
Planning permission for the development was granted on 8 March, conditional on a "full consultation with the community".
This is the second time the prince has appeared on the BBC's flagship construction show, having worked with Prince Harry to help the crew convert homes in Manchester for military veterans in 2015.