Ducklings invade football pitch at Babbacombe Model Village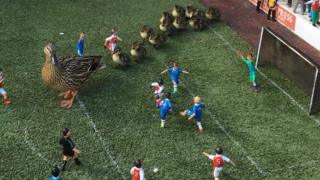 A football pitch at a model village has been invaded by a team of ducks.
A caption on the Babbacombe Model Village Facebook page said they were "led by BILL Shankly, Chris WADDLE, Robbie FOWLer, Dan GOSLING, Neil WEBB, all set to play SWANsea city."
Deputy General Manager Mike Rhodes said it was as if they came on a day trip.
"They appeared on Sunday and I'm not sure if they hatched in the model village, but nobody had seen them before Sunday," he said.
"They spent the day with us and then disappeared on Monday."
Babbacombe Model Village is a miniature village and railway located in Torquay.
There are more than 400 models along with 1,000ft (300m) of model track in the village.