Dublin City Council removes Suu Kyi from honours list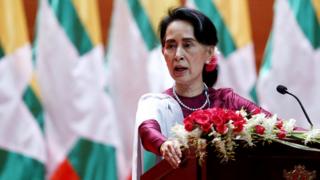 Dublin City Councillors have voted to remove Aung San Suu Kyi from the Freedom of Dublin City award.
Last month, pop musician Bob Geldof handed back his Freedom of Dublin award in protest of the inclusion of Aung San Suu Kyi on the honours list.
Ms Suu Kyi has been accused of ignoring the persecution of Rohingya Muslims; more than half a million have fled to Bangladesh following recent violence.
According to RTÉ, the vote was 59 in favour, two against and one abstention.
The Dublin City councillors also agreed to remove Sir Bob Geldof from the roll of honour, after he returned his Freedom of Dublin City scroll to the council last month.