Dr Dre loses trademark battle with a gynaecologist called Dr Drai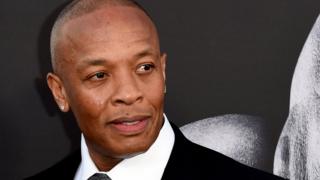 Hip-hop star Dr Dre has lost a long-running trademark dispute against a gynaecologist with a similar name.
The case was first lodged in 2015, when Pennsylvania-based gynaecologist Draion M Burch tried to trademark the name Dr Drai.
Dr Dre objected, saying the similarity could cause "confusion", especially as his near-namesake wanted to sell audio books and seminars under the moniker.
But the US trademark office has disagreed and dismissed Dr Dre's case.
In a ruling made last week, it said that, while the two names were similar, Dr Dre had failed to show that people would be misled into buying by Dr Drai's products.
Given that the doctor's typical fee for a speaking engagement is $5,000 (£3,700), the consumer would be likely to exercise a "higher degree of care" than someone making a casual purchase, it said.
'Dr Dre is not a medical doctor'
Mr Burch had also argued that consumers would be unlikely to confuse the two names "because Dr Dre is not a medical doctor nor is he qualified to provide any type of medical services or sell products specifically in the medical or healthcare industry".
He further testified that he did not seek to trade on Dr Dre's reputation because the association would be "a bad reflection on me as a doctor" – citing lyrics he characterised as misogynistic and homophobic.
The gynaecologist is the author of books such as 20 Things You May Not Know About A Vagina and describes himself as one of America's top health experts.
Dr Dre can currently be seen in the Netflix documentary The Defiant Ones, which charts his rise from the streets of Compton to the multi-millionaire executive in charge of Beats 1.
Follow us on Facebook, on Twitter @BBCNewsEnts, or on Instagram at bbcnewsents. If you have a story suggestion email entertainment.news@bbc.co.uk.