DR Congo: Kidnapped Brits 'very grateful' after release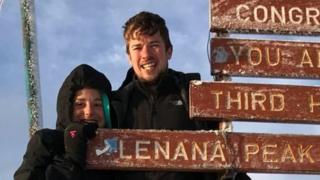 Two Britons kidnapped in a national park in DR Congo have said they are "very grateful" after their release.
Bethan Davies and Robert Jesty were among three people held when their vehicle was ambushed in Virunga National Park on Friday.
They paid tribute to the "excellent support" they had received and said they would not comment any further.
Park ranger Rachel Masika Baraka was killed by the kidnappers; a driver was injured and released.
The 25-year-old ranger is the eighth to be murdered at the park this year.
Park director Emmanuel de Merode said: "Ranger Baraka's life was tragically cut short in service to Virunga National Park.
"She was one of the park's 26 female rangers and was highly committed, showing true bravery in her work.
"We wish to extend our sincerest condolences to her family, and our thoughts are with all those affected by this incident."
The park declined to say how the two Britons came to be released and if the kidnappers had been detained.
Skip Twitter post by @willintune
25 year old Ranger, Rachel Masika Baraka, died in Friday's ambush in Virunga National Park. She was protecting 2 British tourists + a Congolese driver – all released and safe. Rachel is the 8th ranger to be killed by gunmen in the park this year. pic.twitter.com/Tln63HdsXh

— will ross (@willintune) May 13, 2018
End of Twitter post by @willintune
Ms Davies and Mr Jesty said in a statement released by the Foreign Office: "We are very relieved that there has been a positive outcome to the kidnapping and are very grateful for the excellent support we have received. We do not plan to comment further."
Virunga National Park covers some 3,000 sq miles (7,800 sq km) and runs along the border with Uganda and Rwanda.
The park, which is a Unesco world heritage site, is home to critically-endangered mountain gorillas, lions, elephants and hippos.
The Foreign Office currently – and before the kidnapping – advises against travelling to the area.
"The opportunities for gorilla trekking in the Virunga National Park in North Kivu are limited, and armed groups are sometimes active within the park," the advice says.
"Tourists in eastern DRC have been known to be left very vulnerable as a result of trying to travel independently without escorted transport, and the risk of kidnap or injury as a result of armed or criminal activity remains high."