Donald Trump still on Theresa May's Christmas card list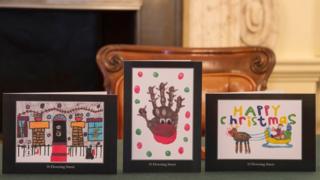 Theresa May has sent a Christmas card to Donald Trump, Downing Street says.
A spokesman could not say which of the PM's three official cards – designed by children in her Maidenhead constituency – was sent to the White House.
But responding to reporters' questions, he confirmed the US president – who clashed with Mrs May last month after he retweeted far-right videos – was still on the Christmas card list.
Jeremy Corbyn, meanwhile, has based his card on Labour's election manifesto.
Mrs May's three cards were unveiled last week.
Chosen through a competition for schoolchildren, they feature a reindeer, Santa Claus in his sleigh and Downing Street festooned with Christmas decorations.
The Labour leader opted for a different approach – choosing a design invoking the cover of his party's 2017 general election manifesto, with people's heads and shoulders outlined in white on a red background.
In the festive version, The Many Not the Few are wearing reindeer antlers and party hats.
And here's the offering from Scotland's First Minister Nicola Sturgeon, featuring a painting by artist and writer John Byrne.
Say It With A Kiss! depicts a couple about to share a tender moment under the mistletoe.