Dom Bess: Uncapped spinner found out about Test call-up in IKEA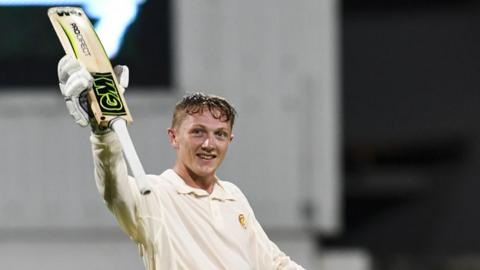 One minute he was having an argument over a sofa in IKEA, the next he was getting called up to play for England.
Tuesday afternoon was certainly eventful for Somerset off-spinner Dominic Bess.
The 20-year-old was handed his first Test call-up by England's new national selector Ed Smith, ahead of next week's first Test against Pakistan at Lord's.
But was the call expected?
"I was in Ikea with my girlfriend and we were actually arguing over a sofa so the call couldn't have come at a better time," Bess told BBC Radio 5 live.
"Ed Smith rang me, I didn't have his number and I was thinking of finishing the argument first and then moving on to the phone call but my girlfriend said to pick it up as it could be England.
"I've started buying a house and am currently getting calls from random numbers so I thought it might be one of them.
"I can't quite believe it yet, it really hasn't sunk in. I'm lost for words almost."
The first Test at Lord's starts on 24 May and the second at Headingley on 1 June.
Bess replaces Somerset team-mate and left-arm spinner Jack Leach, who broke a thumb on Monday.
"I saw him when he broke his thumb, we are very good mates so I was gutted for him and I didn't really think of anything for it for me," added Bess.
England squad for first Test: Alastair Cook, Mark Stoneman, Dawid Malan, Joe Root (capt), Jonny Bairstow (wk), Ben Stokes, Jos Buttler, Chris Woakes, Mark Wood, Stuart Broad, James Anderson, Dominic Bess.