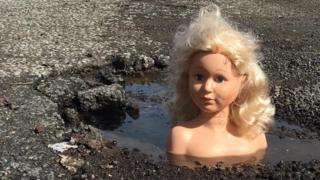 Dolls' heads have been popping up in a large pothole in a road.
Submerged chest deep in water, they were placed in Mill Lane, Swindon, by local resident Neville Daytona.
The father-of-three said he was fed up with the crater being "barricaded off for months" and had turned to "doll power" to get the hole filled.
Dolls' heads used to lobby Swindon pothole repairs
The council said the pothole had kept reappearing after being fixed several times. Highways England would be fixing the "underlying issue", it added.
The first "rustic" looking mermaid doll appeared on the motorway bridge across the M4, three weeks ago – much to the amusement of local drivers.
But a week later Mr Daytona said "someone took her" and she had to be replaced by another "Lady of the Holes".
"I get them from charity shops, they're just the heads so I don't have to cut any dolls in half," he said.
"But I thought she needed a hat so I was wandering around the shops with this head looking and finally got a bow."
Mr Daytona, who lives in nearby Wroughton, said the pothole had been there for months and had "got worse" after the council filled it.
He said he decided on dolls because he thought it would be funny for drivers to "see a big head in the middle of the road".
"But I've got a few so I'm prepared if another goes missing."
You may also like:
His campaign has been gathering momentum online with residents taking to the local village Facebook page to back the "Wroughton mermaids".
Jessica Sabat, posted: "We loved spotting that sinking lady" and Helen French, said: "She made me smile on the way to work every day" while Anna Penney, simply messaged: "The kids were in hysterics when they saw 'Barbie' stuck in the hole!".
Kevin Burchall, from Swindon Borough Council, said: "Our action men and women have repaired the pothole several times but it keeps reappearing due to a problem with the motorway bridge.
"Highways England have agreed to fix the underlying issue."